Hello, everyone.
We hope you all are safe from Corona Virus. Here in Susaki, Kochi, fishing is not prohibited yet, though we are not sure whether it is fortune or not.  
Just like we introduced Kojima Suisan (Fish Company) in previous time, this is the time that we would like to introduce most important tool to process the tasty fish, Knife.

Sakoda Hamono, a blacksmith company in Susaki. "Hamono" means Knife in Japanese. This blacksmith is registered as a master of one of three most famous Japanese knife, Tosa Knife. He was registered as a master  in 1997, and also registered as a master in the knife category of Secretary of State for Trade and Industry in Japan in 2000.   
In Sakoda Hamono, like other blacksmiths, he produces the knife from the chunk of metal and sharpen the knife, also he went around throughout not only in Japan, but also some other countries like France for demonstrating his master work to tourists and Chefs.
Moreover, to pass this traditional skills to descendants, he has been holding the Knife-sharpening workshops for school kids.
Let's take a look at some of his work .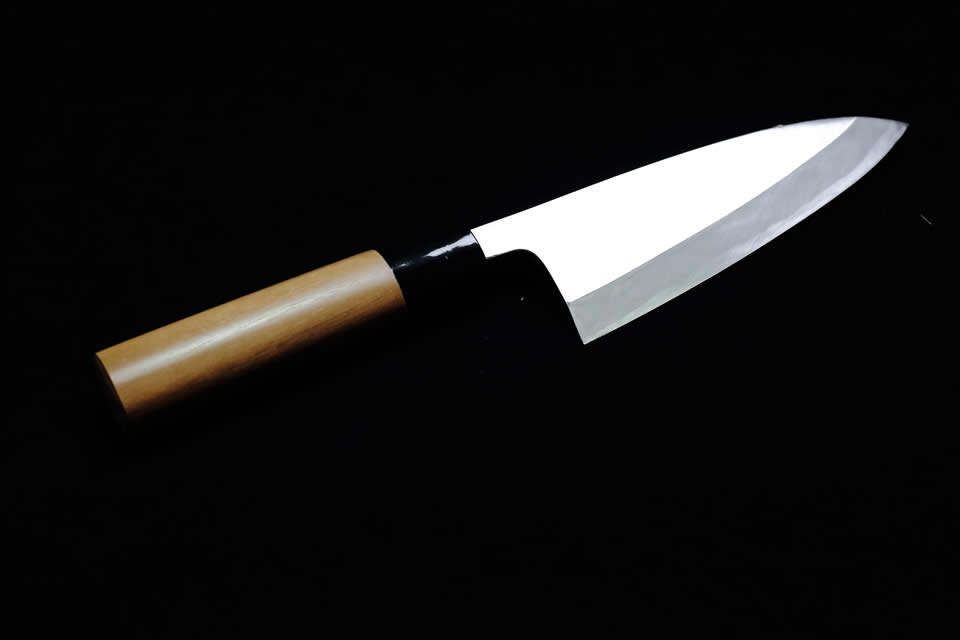 Deba Knife (Single edge)
Blade is relatively thick compared to the other knives, and this knife is used to cut the spine of fish. Tip of the knife goes into the meat smoothly and after cutting in the middle, blade gets thicker to not get damaged. 15cm (5.9in) long knife is good  for small fish. 21~24cm long blade is used for cutting the head of fish like snapper and tuna. For cutting common dairy foods in household, 15cm blade knife can be used in most of situations.
Chef's Knife (Double edge)
This is a double-edged knife for western meals. Tip of knife is relatively sharp to process the vegetables such as removing the stalk end. Because this knife is double edge, this knife is not suited for processing the fish.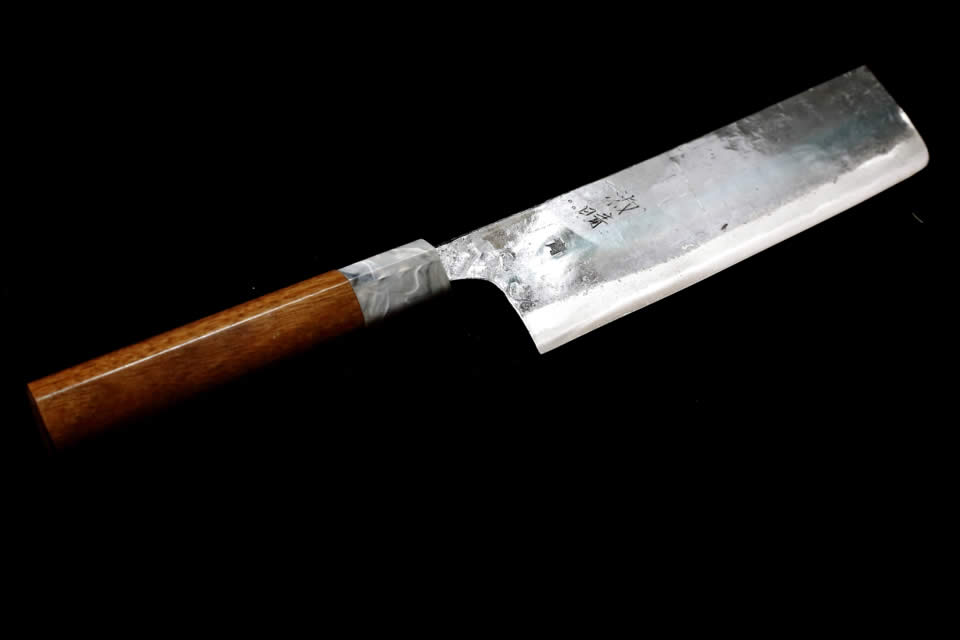 Vegetable Knife
This is a vegetable knife resemble to Chinese Knife. Since this knife is designed to chop the vegetables from above, there is no warpage on the blade part and enable users to cut vegetables with all part of blade.
Bannou Knife (Versatile double-edged  knife)
This knife is used to use a lot by the fishermen. Compared to Chef's knife, this knife is relatively round-shaped knife. Since blade part doesn't have much of warpage, thsi knife is suited for cutting processed fish, meat and vegetables, but not suited for cutting farm thing or slicing fish meat. This is the knife distributed most in households.  
This is the page introducing all of the products that Sakoda Hamono manufactures.
List of Products (Only in Japanese)
Sakoda Hamono also provides the after-sales service.
"Passion" from the website of Sakoda Hamono,
" As long as my company lasts, products from Sakoda Hamono is guaranteed to maintain by hand sharpenning "
「迫田刃物の製品は永久保証。迫田刃物が続く限り、自身の手で砥ぎ直しをさせていただくことをお約束します。」
Products of Sakoda Hamono are not sold in supermarket but available in internet shopping.
【Online Shopping Websites】
Yahoo Japan Shopping  (Only in Japanese)
Amazon Japan (Only in Japanese)
ZAKURI Craftmans Ship(Only in Japanese)
Rakuten Japan(Only in Japanese)
If you live in Japan and pay tax to Japanese Government, and would like to pay tax through Furusato Nouzei (Furusato Tax Payment)
【Furusato Tax Payment Websites 】
Furusato Choice(Only in Japanese)
ANA's Furusato Tax Payment (Only in Japanese)
Rakuten Furusato Tax Payment(Only in Japanese)
Furu Navi(Only in Japanese)
Some areas are only allowed to go out for buying dairy products due to corona virus.
We should deserve at least to have healthy meals.
Why don't we start the life with healthy and tasty cooking life  with proper knife?