Hello, world anglers!
How's your fishing trip recently ?
We hope you are doing great fishing journey.
Well, as we introduced here before, there are three mysterious fishes in Japan.
Itou in Hokkaido
Biwako Oonamazu in Shiga
And,
Akame in Kochi
These three kinds of fishes are considered as growing big, small numbers and only thriving in limited areas.
Akame, Japanese Barramundi (Lates Japonicus) is very resemble to Barramundi in Australia and Nile Perch in Africa but has distinctive feature.
Akame's eyes turned to red color by the reflection of light.  Barramundi's eyes turned to gold color.
Aka means red, and me means eye. Akame literary means "Red Eye".
Akame used to be considered as the fish for night fishing. In fact, many anglers tried to catch it at night by casting lures all night long.
However, here in Susaki, Akame is the fish of day time. During day time, you can see Akame is swimming under your feet, chasing your catch with multiple numbers.
That is raft fishing in Susaki, Kochi Prefecture.
This time, we received a report from an angler who caught two akame in one day and both two are over 1m, 39in.
According to that angler, below is the bait to catch 106cm Akame,  47cm, 18.5in Mullet.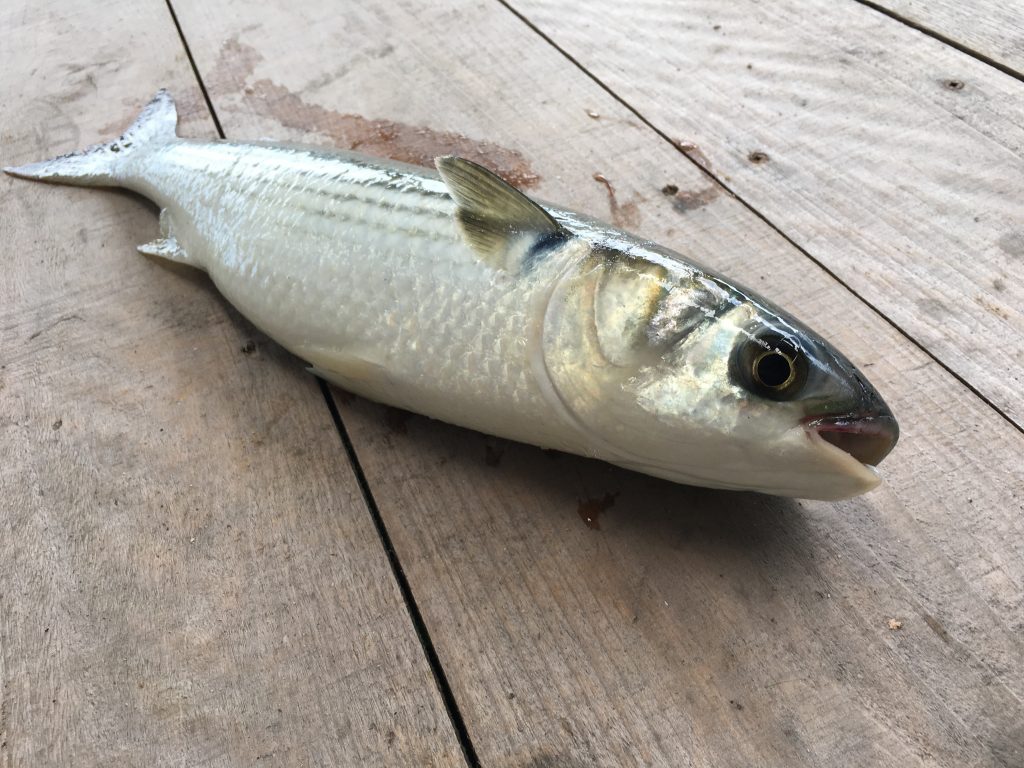 About 50cm Mullet is a BAIT!!!!  Unbelievable....
This is already a big catch....  I still can't believe this is a bait.
And, what an angler caught with this mullet was.... 106cm Akame, below.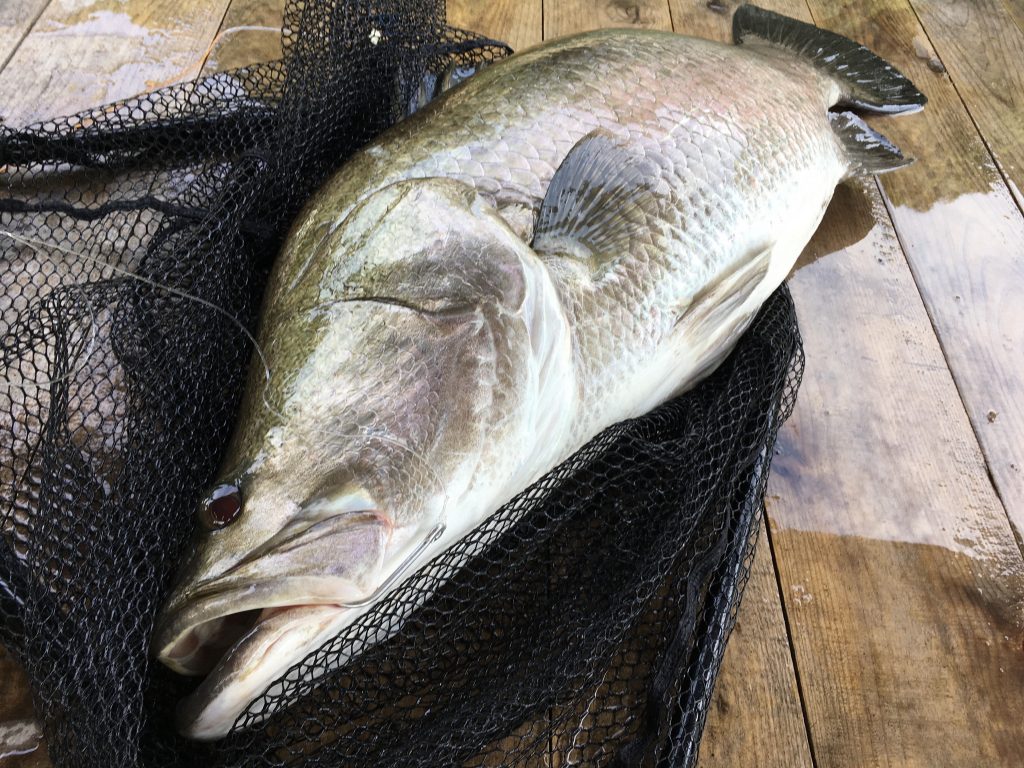 Hooking point is at the best spot where hook can be never taken off by a fish.
From this photo, head of akame looks like a Pirarucu in Amazon, Brazil. And, eye is shining dark red.
I can't imagine how strong the power created from big fan-shaped tailfin is...
And, this is the second Akame 104cm, 41in caught in afternoon.
This was caught with 20cm Smallscale blackfish.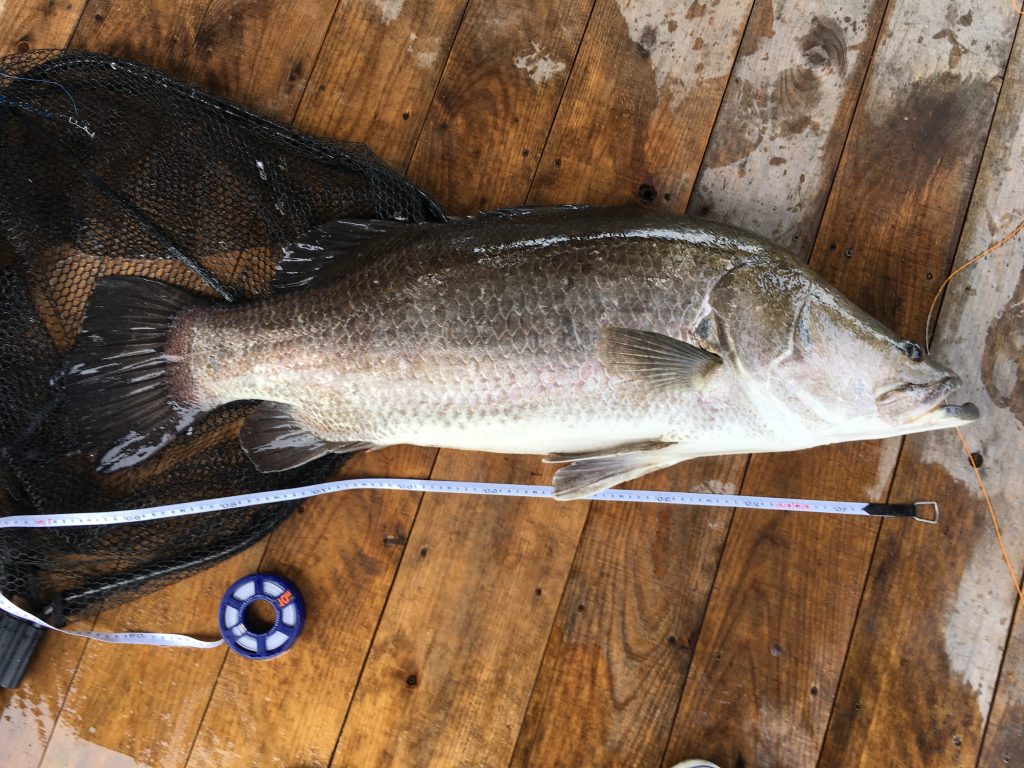 Second Akame, 104cm, 41in  in afternoon!
When I received this report, I was pretty jealous but he said that he actually hooked 3rd akame but instantly hooked off because tip of hook was broken by Akame...
A hook he used was a hook used by professional fishermen. That hook is broken....what a hard mouth Akame has...
Additionally, there are 4-5 Akame,  the smallest one is about 80cm, and the biggest one is 120cm.
Biodiversity of Uranouchi Bay is incredible.
Urado bay is quite famous for Akame but I feel like density of Akame in Uranouchi is probably more than Urado bay.
There are 9 fishing rafts in Uranouchi Bay.
They are all members of Uranouchi Fishing Raft Association, so price is all same.
-High schooler or older   3500JPY all day
-Junior high schooler   3000 JPY all day
-Elementary high schooler 2000 JPY all day
-5 years old or younger 1000 JPY all day
All fishing rafts are equipped with roof so that people can enjoy the fishing even if it is raining. Also, though I haven't tried all rafts, ones I tried were equipped with nice clean room, gas barner for boiling water, drinking water, and other fishing peripherels such as backet, bowl, chair, fish stock net and so on.
If you are interested in raft fishing in Uranouchi Bay, please call them day before scheduled fishing day.  
※We are sorry that the corresponded language for the numbers below is only Japanese.
①Fukaura Fishery Association 
 TEL:090-3785-4216
②Fishing Raft   Masaki

   TEL:090-3785-4216
③Tominaga Fishing Raft

   TEL:090-8694-9496
④Fishing raft    Sachimaru

   TEL:090-9772-3209
⑤Tanimura Boat

   TEL:090-1003-1887
⑥Fishing Raft  Yano
 
  TEL:090-4332-6840
⑦Takahashi Boat

   TEL:090-8741-8321
⑧Hiroto Maru

   TEL:080-6396-5271