Hello, everyone!
How have you been?
Here in Japan, locust finally started signing.
Yeah, summer has come, not rainy  season finishes yet though.
Anyway, let's move onto today's topic.
There are several kinds in Lates genus in the world and Lates Japonicus ( Japanese Barramundi, Akama, literally "Red Eye") is one thriving originally in Japan.
This barramundi (hereafter, Barra) is quite popular among anglers since its habitat is limited only around southern western Japan and its numbers are not many.
Kochi Prefecture is probably the best place to challenge that fish and especially Urado bay is where Japanese record (131cm, 39kg) was confirmed and most accessible from the airport.
Therefore, Urado Bay has been known as best but sometimes only spot for catching Barra for long time.
HOWEVER, here in Susaki, there is a bay called Uranouchi bay surrounded by the peninsula stretching for 18.8km.
While Urado bay's Barra fishing is done mainly at night, daytime fishing is main in Uranouchi Bay, which is much more exciting to see the fight.
Moreover, anglers fish from shore at Urado, but anglers fish from raft at Uranouchi. That is an interesting difference between these places.
So, I went to Uranochi Bay to research with colleages.
I and colleages were thinkning that Barra is rare and very cautious fish, so that would be great if we could catch one by the end of the day, but
after 30 minutes from the beginning, one of us suddenly caught this by letting 17cm smallscale blackfish swim with a big hook.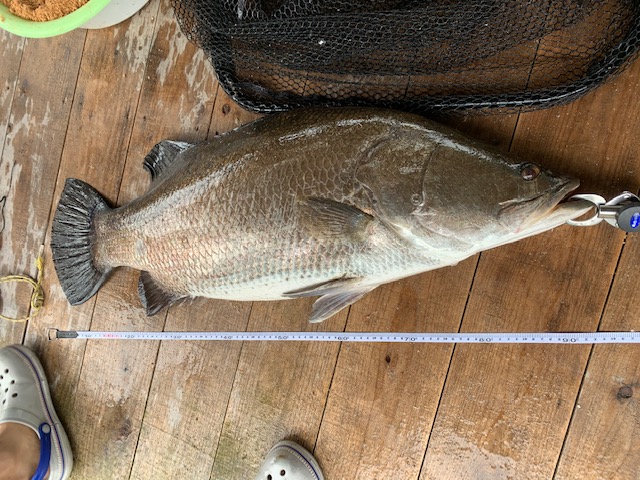 94cm  Akame (Japanese barramundi, Lates Japonicus) 
That was really amazing experience since I have never thought Barra is such easy to catch.
Plus, great things were fishing raft is covered with roofs, gas burner equipped with drinking water, clean rest place without shoes, toilet, fishing gears such as net, fish stock net, containers, buckets  and so on.... So, there is no worry about sun burn and rain. Just bring your fishing rod, reel, rigs, and bait. You can even enjoy BBQ on the raft if owner says OK.
Below is the list of raft floating at Uranouchi Bay. Call them by the day before and enjoy!
①Fukaura Gyokyou  
 Call  Fukaura  
 TEL:090-3785-4216
②Tsuri Ikada Masaki
  Call Masaki
  TEL:090-3785-4216
 ③Tominaga  Tsuri Ikada
  Call Tominaga
  TEL:090-8694-9496
 ④Tsuri Ikada   Sakamoto
  Call  Sakamoto
  TEL:090-9777-7473
 ⑤Takahashi Tosen
  Call  Takahashi
  TEL:090-8741-8321
 ⑥Hiroto maru
  Call   Nakauchi
  TEL:080-6396-5271
 ⑦Tsuri Ikada  Sachi maru
  Call   Fukumoto
  TEL:090-9772-3209
 ⑧Tsuri Ikada Yano
  Call Yano
  TEL:090-4332-6840
 ⑨Tanimura Tosen
    Call Tanimura
  TEL:090-1003-1887