How are you doing, guys! ?
Northern hemisphere is really getting into summer.
Last weekend was pretty humid and hot.
It was really hard to motivate myself to go out from air-conditioned room .
Aaand, I caught nothing.
Too bad..
Anyway, let's take a look at what super expensive fish is!
Date is June 13th.
An angler launched a boat from Yoshino Marina Resort which provides us fishing information many times.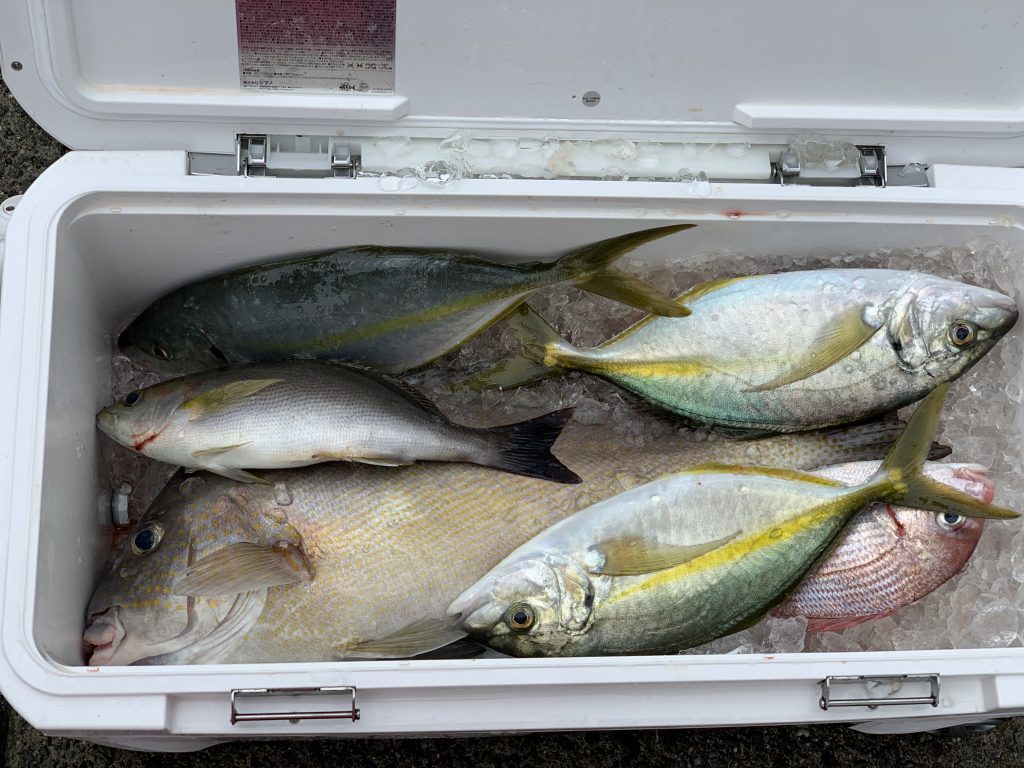 Wild White Trevally!!! Wild ones are way different than farmed ones in terms of their taste. One of most expensive fish in Japan.
And, biggest  one is a cresent sweetlips. This is one of fishes I want to catch someday.
White trevally is a quite expensive species in Japan. Even farmed ones are rare to see in super market.
Wild ones are mainly distributed to the expensive Japanese restaurant such as politicians use for business table.
They are caught with shrimp bait with chumming.
There is a captain who provides this fishing service in Susaki.
Yup! Captain Okkamu !
Captain Okkamu's Reservation Information :
E-mail : syoko1@city.susaki.lg.jp (in English & Japanese)
Or, contact us at 0889-42-3951
(Telephone in English & Japanese, available Mon~Th, 8:30~17:15 in Japan standard time),
For the details for fishing tour is here (see "Boat Fishing・Raw Bait Style").
Location of port is here.
Captain Okkamu above is mainly fishing with raw or live bait but we, Susaki Tourism Fishing Center, provide lure fishing service as well.
Fishing style is called "Tairaba" which is effective for Red Snappers and other kinds of snappers.
Detail is here.
As well as lure fishing service, we also provide the service that carries anglers to offshore inlets for Smallscale Blackfish and Striped Beakfish.
It is highly recommend to aim those fishes here in Susaki . Detail is here.
We will see you at next information update and hopefully at Susaki for fishing in future!
Fish on!!