Hello, everyone!
Greeting from Susaki Tourism Fishing Center located in Kochi, Japan.
Though Corona virus is still threatening the world and we are being surpressed to go fishing,
maybe thinking like nature is getting healed due to the decreasing of human activities would be
our mental relief under the depression of not able to go out.
Anyway, off we go to today's fishing report.
Back to May 16th, Captain Okkamu went out offshore to do live bait fishing instead of Sabiki rig for horse mackerel.
First of all, his customers let a boat run near the pier near the port.
Two piers cut off from the land are where they caught  bait fish like small horse mackerel.
Of course not just catching bait, they also caught their dinner  like a photo below too.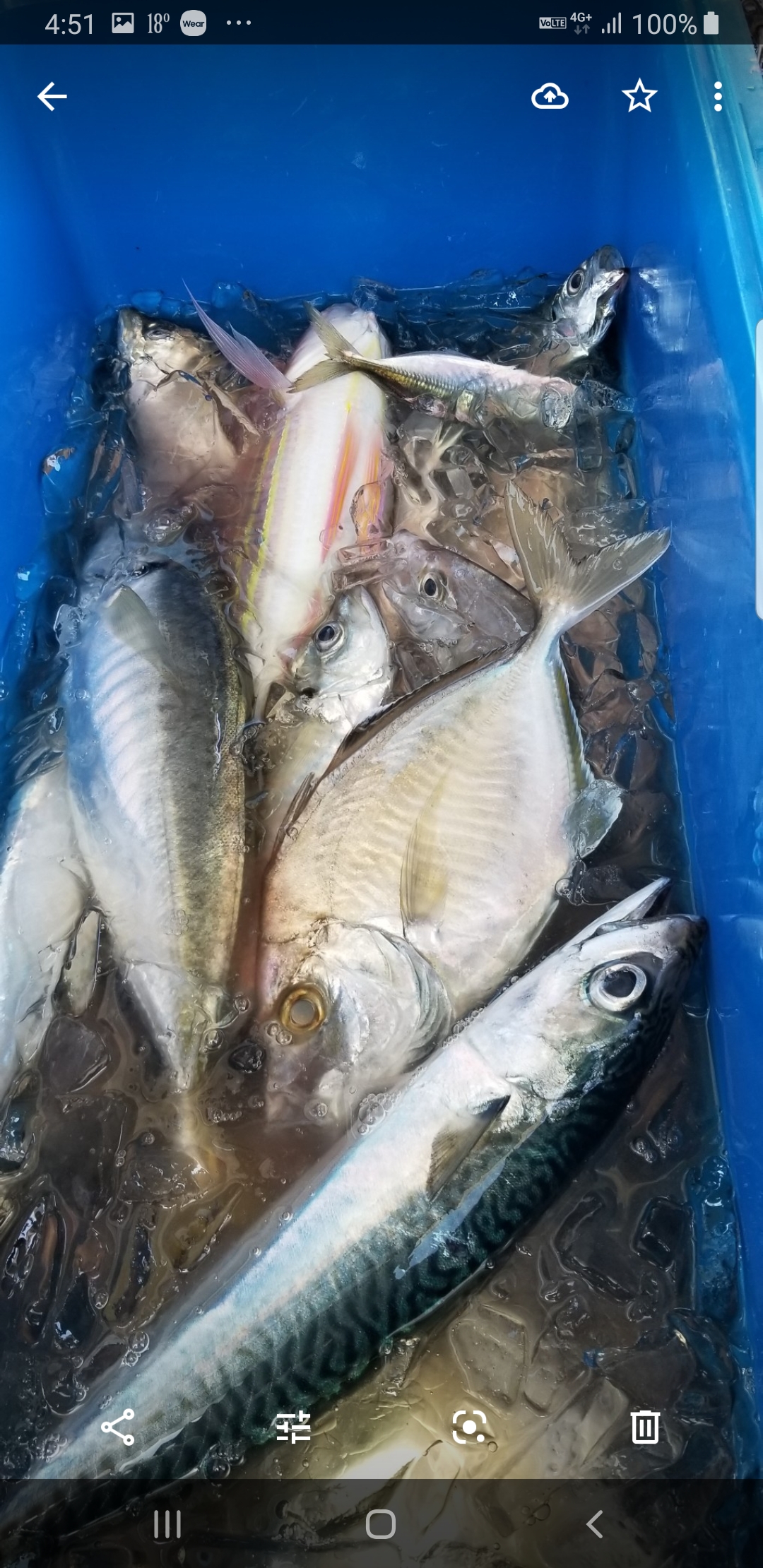 Mackerel, White trevally, Good-sized horse mackerel (too big as bait, but good as human meal), Golden threadfin bream,,hmmm gorgeous dinner is promised.
After they kept bait fish, they moved to offshore to catch main fish.
Captain Okkamu stared at the fish sonar and chose carefully good spot.
Maybe because of his effort, angler got a big bite from the first drop with rod-breaking power.
After the exciting fight, what came up from the bottom of ocean was a giant yellowtail.
Giant Yellowtail. This is the attractiveness of live bait fishing from the boat. Bait (small horse mackerel) is not necessary to be used up. Frying is best way to cook them.
After first fish, customers and Captain Okkamu believed the constant hit of  predatory fishes, but nature is not that easy.
they were bite-less for two hours after first fish.
They kept changing places and finally second bite arrived.
However, that bite was such small bite which they were not really waiting for.
So, they expected that small predatory fish was playing around with  bait fish.
However, that small bite betrayed their guess and small bite was getting bigger and bigger after first bite and
finally rod was bended almost like breaking.
Angler was aiming that timing and swung the rod to heaven to set a hook.
After 23 minutes of fight, what finally broke the surface the sea was a giant flatfish!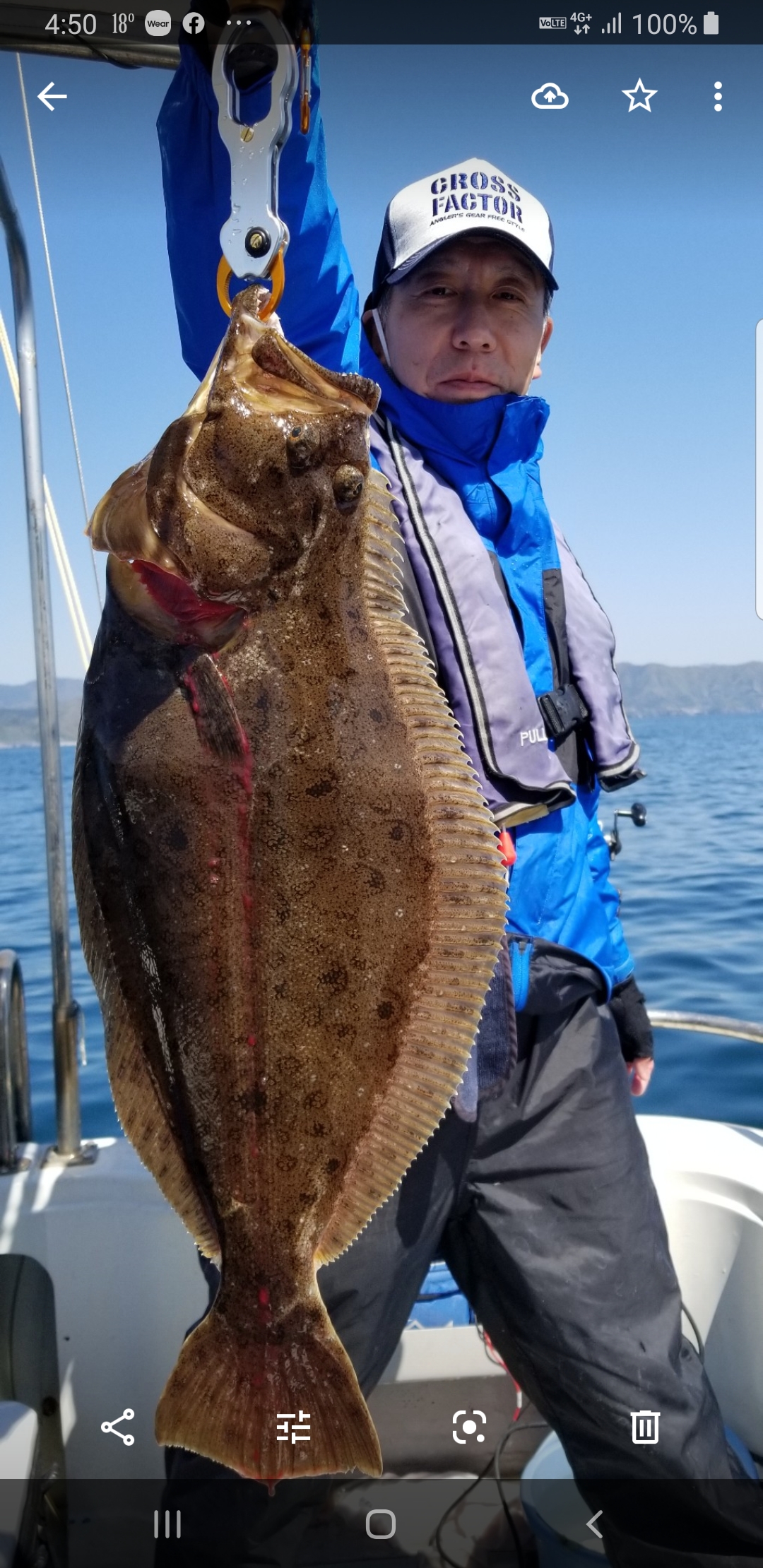 Such giant flatfish! I have never caught the size of this flatfish. I mean, I have never caught even 1 flatfish.
Congratulations, angler!
Captain Okkamu is, needless to say, familiar with fishing horse mackerel, but basically, he is a specialist of all kinds of boat fishing.
If you come to Japan first time ever and would like to try fishing without being lonely with empty cold box, we highly recommend him to go fishing with.
After the corona disaster ceased, please keep him in your fishing list!
Captain Okkamu's Reservation Information :
E-mail : syoko1@city.susaki.lg.jp (in English & Japanese)
Or, contact us at 0889-42-3951
(Telephone in English & Japanese, available Mon~Th, 8:30~17:15 in Japan standard time),
For the details for fishing tour is here (see "Boat Fishing・Raw Bait Style").
Location of port is here.
Captain Okkamu above is mainly fishing with raw or live bait but we, Susaki Tourism Fishing Center, provide lure fishing service as well.
Fishing style is called "Tairaba" which is effective for Red Snappers and other kinds of snappers.
Detail is here.
As well as lure fishing service, we also provide the service that carries anglers to offshore inlets for Smallscale Blackfish and Striped Beakfish.
It is highly recommend to aim those fishes here in Susaki . Detail is here.
We will see you at next information update and hopefully at Susaki for fishing in future!
Fish on!!