Hello, world anglers!
Fishing report on April 10th is now out here.
Fortunately, here in Kochi, we have no restriction announced by the governor to not let us go fishing
because fishing is done by small number of people in open environment.
Ok, so fishing report starts.
As we wrote here in a previous article,  from a few weeks ago, the cold water came into Tosa Bay, and that still gave negative effect on fishes.
On April 10th, there are 8 boats lounched from Yoshino Marina Resort, but most of boats refused to open their boxes to marina staffs when came back.
However, one boat hit the jackspot on this severe day.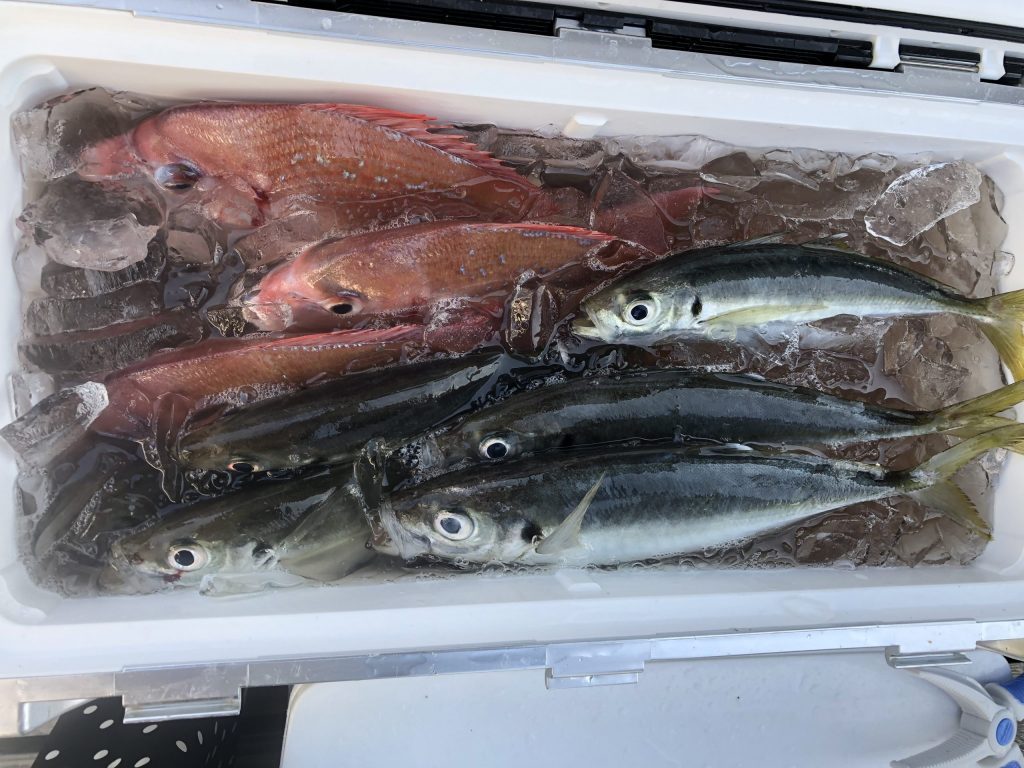 Full of Horse Mackerel and some Crimson Seabream.
Here in Susaki, there is a captain who is very familiar with horse mackerel fishing, big game fishing by swimming small fish,
and any other boat fishing methods.
Captain's name is 
Okkamu.
Captain Okkamu's Reservation Information :
E-mail : syoko1@city.susaki.lg.jp (in English & Japanese)
Or, contact us at 0889-42-2311
(Telephone in English & Japanese, available Mon~Th, 8:30~17:15 in Japan standard time),
For the details for fishing tour is here (see "Boat Fishing・Raw Bait Style").
Location of port is here.
Captain Okkamu above is mainly fishing with raw or live bait but we, Susaki Tourism Fishing Center, provide lure fishing service as well.
Fishing style is called "Tairaba" which is effective for Red Snappers and other kinds of snappers.
We highly recommend Tairaba style fishing service.
Detail is here.
As well as lure fishing service, we also provide the service that carries anglers to offshore inlets for Smallscale Blackfish and Striped Beakfish.
It is highly recommend to aim those fishes in winter . Detail is here.
We will see you at next information update and hopefully at Susaki for fishing in future!
Fish on!!