Hello, everyone.
How are you doing? I hope you all are fine from Corona virus.
Corona is spreading out through the world and some of you are refrained from fishing due to avoid spreading virus.
Stay well and healthy, anglers!
Ok, today is the fishing report from the area not rocked down yet by Japanese Government.
Day is March 25th.
Captain Okkamu  and his customers went out to the outside of peninsula.
Wind wasn't that strong for fishing. On the first spot, captain found a pack of fish on the screen.
He was expecting to catch lots of fish. However, fish wasn't somehow that active. Customers
kept dropping bait onto the middle of fish pack but no bite or even if customer caught one,
there was no double or triple fish at once.
Captain changed places again and again but fish activeness never rised this day.
And the result is ...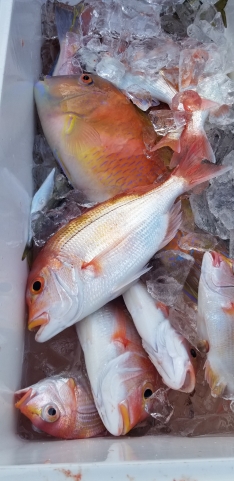 Yellowback seabream and Tuskfish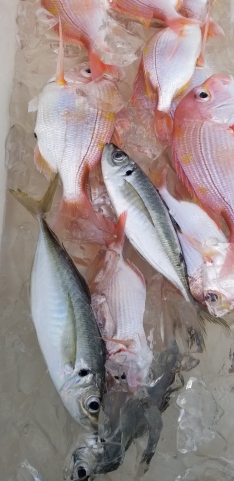 Yellowback seabream and Horse Mackerel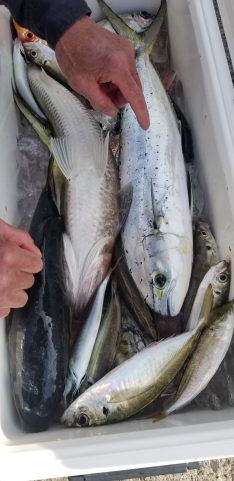 Mahimahi, Lizard fish, Dark rough-backed puffer and Horse mackerel
This is from our captain Okkamu.
As we have been informing since last year, Captain Okkamu is constantly catching fishes.
If you come to Japan first time ever and would like to try fishing without being lonely with empty cold box, we highly recommend him to go fishing with.
Captain Okkamu's Reservation Information :
E-mail : syoko1@city.susaki.lg.jp (in English & Japanese)
Or, contact us at 0889-42-2311
(Telephone in English & Japanese, available Mon~Th, 8:30~17:15 in Japan standard time),
For the details for fishing tour is here (see "Boat Fishing・Raw Bait Style").
Location of port is here.
Captain Okkamu above is mainly fishing with raw or live bait but we, Susaki Tourism Fishing Center, provide lure fishing service as well.
Fishing style is called "Tairaba" which is effective for Red Snappers and other kinds of snappers.
Detail is here.

As well as lure fishing service, we also provide the service that carries anglers to offshore inlets for Smallscale Blackfish and Striped Beakfish. 
Detail is here.
We will see you at next information update and hopefully at Susaki for fishing in future!
Stay Strong!