Hello, world anglers!
How have you been?
One who is trying to catch Pirarucu, one who is trying to catch Goliath Tigerfish, one who is trying to catch Taimen,
one who is trying to catch white sturgeon, how's fishing on the boat with fun and tasty catches?
Here in Susaki, some chillin nice boat fishing is in best season in summer.
Let's take a look at recent catch.
On current day, Captain Okkamu and his customers were attcking range of 90m deep to aim giant horse mackerels.
Fish sonar showed very thick wall of fish. Captain Okkamu assured this day was gonna be a good day.
He was right.
At first drop, customers got mackerels a lot.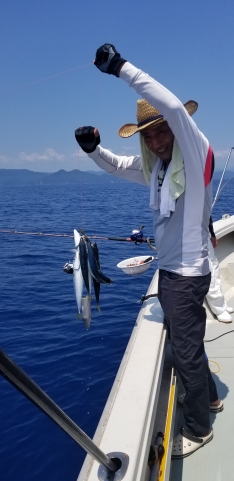 They were supposed to catch Horse mackerel but they were at the bottom and on them, there is a thick wall of makerel.
It was very hard to get through this wall without hitting mackerel.
If customers were lucky enough, their rig went through the wall and reached horse mackerel once per 5times of trial.
And, this day, mackerel wasn't only intervene to catch horse mackerel.
At 20m deep from the surface, there are other enemies called, giant puffer and dolphin fish.
Yes, they attacked on horse mackerel that anglers bearly could get hit with lots of efforts.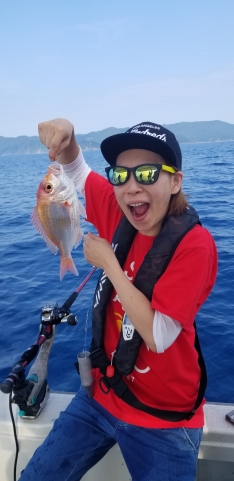 Plus, yellowback seabream is one of them.
At last, they caught lots and various kinds of fish instantly in great environmental condition!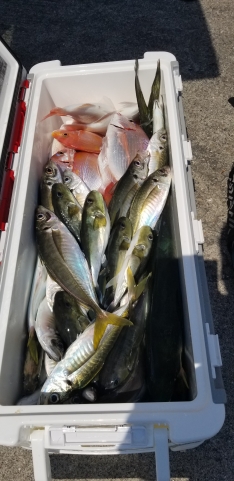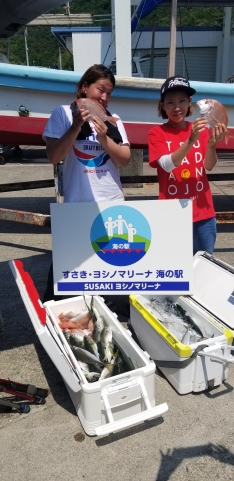 This is from our captain Okkamu.
As we have been informing since last year, Captain Okkamu is constantly catching fishes. If you come to Japan first time ever and would like to try fishing without being lonely with empty cold box, we highly recommend him to go fishing with.
Captain Okkamu's Reservation Information :
E-mail : syoko1@city.susaki.lg.jp (in English & Japanese)
Or, contact us at 0889-42-2311
(Telephone in English & Japanese, available Mon~Th, 8:30~17:15 in Japan standard time),
For the details for fishing tour is here (see "Boat Fishing・Raw Bait Style").
Location of port is here.
Captain Okkamu above is mainly fishing with raw or live bait but we, Susaki Tourism Fishing Center, provide lure fishing service as well.
Fishing style is called "Tairaba" which is effective for Red Snappers and other kinds of snappers.
Detail is here.
As well as lure fishing service, we also provide the service that carries anglers to offshore inlets for Smallscale Blackfish and Striped Beakfish.
It is highly recommend to aim those fishes in winter . Detail is here.
 We will see you at next information update and hopefully at Susaki for fishing in future!
Fish on!!