Heeellloooo! World anglers!
How have you been recently?
I hope you guy are enjoying fishing !
Right now, massive typhoon 10th is hitting Susaki, and outside of city office is exactly like chaos such as leave blowing, broken branches and road sign on the ground.
Hmm.. I guess I shouldn't go to fishing to today.
Okay, this is 3rd report from Captain Okkamu!
Date was July 30th.
Captain and his customers were off from shore and attacking 85m (278ft) deep range for big horse mackerel.
From very first drop of the rig, customers hit good size mackerel.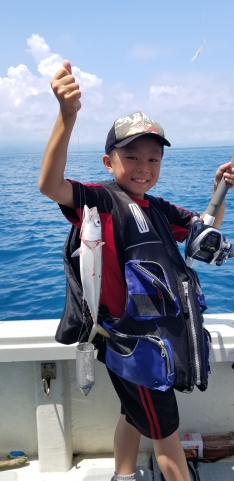 Fish sonar was showing the shade of huge mackerel group and it was very hard to get through the group to reach Horse mackerel waiting bait at bottom.
When customers could get through they got big Horse mackerel like this.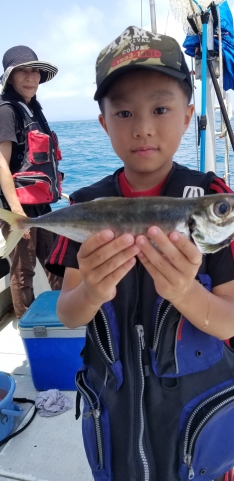 Afterall, every time they dropped a rig, they got something.
Yes, that was a fever.
Since they fill their cold box pretty quikly with various fish, captain and his customers went back to port.
And, the result is....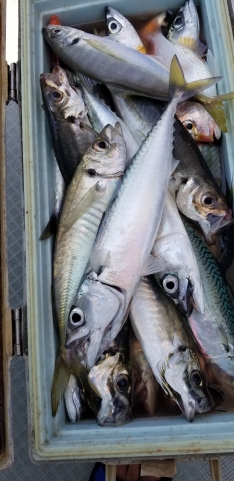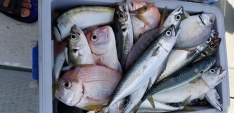 Not only horse mackerel and makerel, but also they caught yellowtail bream and white trevally and more.
If you are interested in catching those here in Susaki, please let us know via the email address:
E-mail : syoko1@city.susaki.lg.jp (in English & Japanese)
Or, contact us at 0889-42-2311
(Telephone in English & Japanese, available Mon~Th, 8:30~17:15 in Japan standard time),
For the details for fishing tour is here (see "Boat Fishing・Raw Bait Style").
Location of port is here.
Exciting fishing, anglers! ! !