Hello, world anglers!
Hi from Susaki, Japan!
How was the fishing recently?
Hopefully all of you have a wonderful fishing !
Here in Susaki, Captain Okkamu sent us his report of July 23rd.
Let's take a look!
July 23rd was the day to aim Horse mackerel.
I guess some of you may be wondering why Japanese people like Horse mackerel .
Horse mackerel is written as Aji in Japanese. Fish name Aji is same spelling as the word "taste" in Japanese.
The reason why Japanese people name this fish same as "taste"? It is because of its taste.
Since Aji fish is so tasty, Japanese people named this fish  same as taste.
Anyway, boat fishing publish company came with them this day.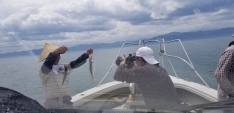 Result was Horse mackerel, Mackerel, Breams, Flounder, Martbled Rockfish.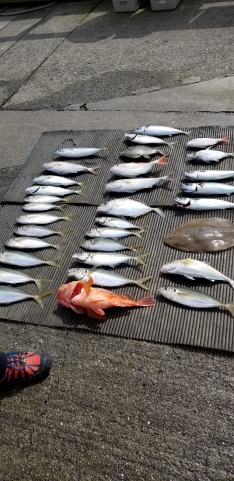 They got lots of rain in previous day and captain was expecting muddy bad condition water but the day turned to be mackerel festival.
If they could drop rig until the bottom, they could have chance to catch horse mackerel.
However, fish sonar showed tons of mackerel from 10m (393in) from surface to 60m (2362in).
They changed spots a lot but wherever they went, there were alwasy mackerel waiting for them.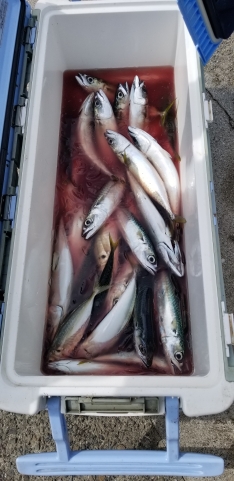 Mackerel can be cooked in any ways and good to share with neighbors.
If you are intersted in catching these, this is where you contact. 
As we have been informing since last year, Captain Okkamu is constantly catching fishes. If you come to Japan first time ever and would like to try fishing without being lonely with empty cold box, we highly recommend him to go fishing with.
Captain Okkamu's Reservation Information :
E-mail : syoko1@city.susaki.lg.jp (in English & Japanese)
Or, contact us at 0889-42-2311
(Telephone in English & Japanese, available Mon~Th, 8:30~17:15 in Japan standard time),
For the details for fishing tour is here (see "Boat Fishing・Raw Bait Style").
Location of port is here.
Captain Okkamu above is mainly fishing with raw or live bait but we, Susaki Tourism Fishing Center, provide lure fishing service as well.
Fishing style is called "Tairaba" which is effective for Red Snappers and other kinds of snappers.  We highly recommend Tairaba style fishing service.
Detail is here.
As well as lure fishing service, we also provide the service that carries anglers to offshore inlets for Smallscale Blackfish and Striped Beakfish.
It is highly recommend to aim those fishes in winter . Detail is here.
We will see you at next information update and hopefully at Susaki for fishing in future!
Tight lines!!