Hello, world anglers!
Greeting from Susaki, Kochi, Japan!
Rainy season is over in Japan and finally hot summer has come to Japan.
Hot summer means the fever of fishing.
Lots of great fishes are caught everyday. Here are some of them.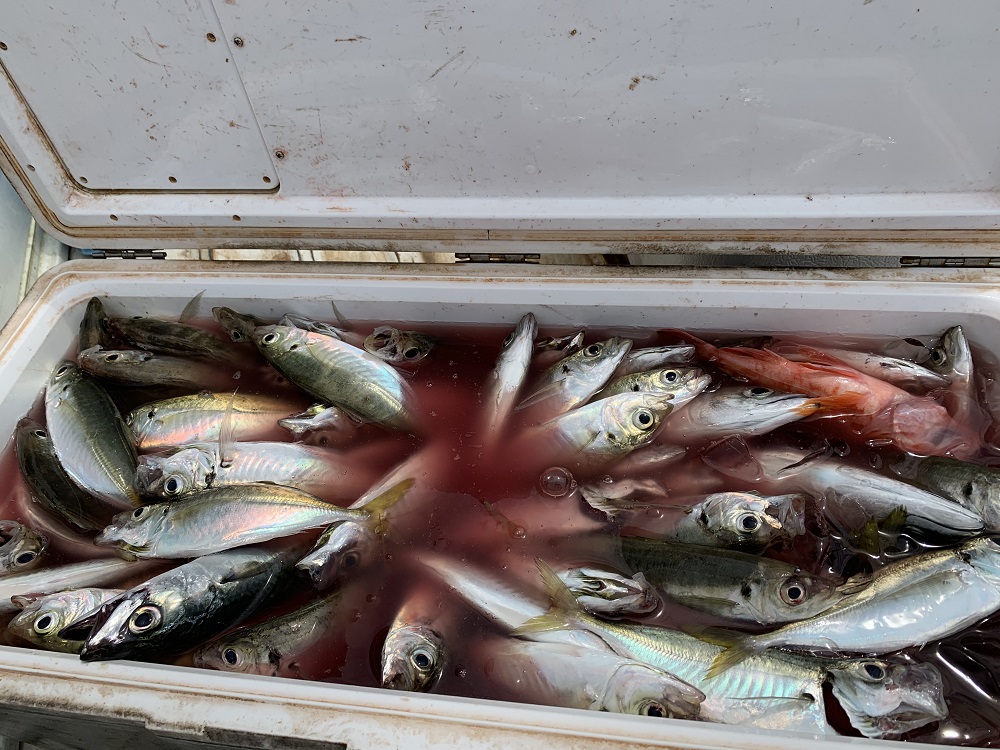 Lots of Horse Mackerel and Mackerel and a Rockfish. These are pretty ordinary but when angler used them as a live bait,then....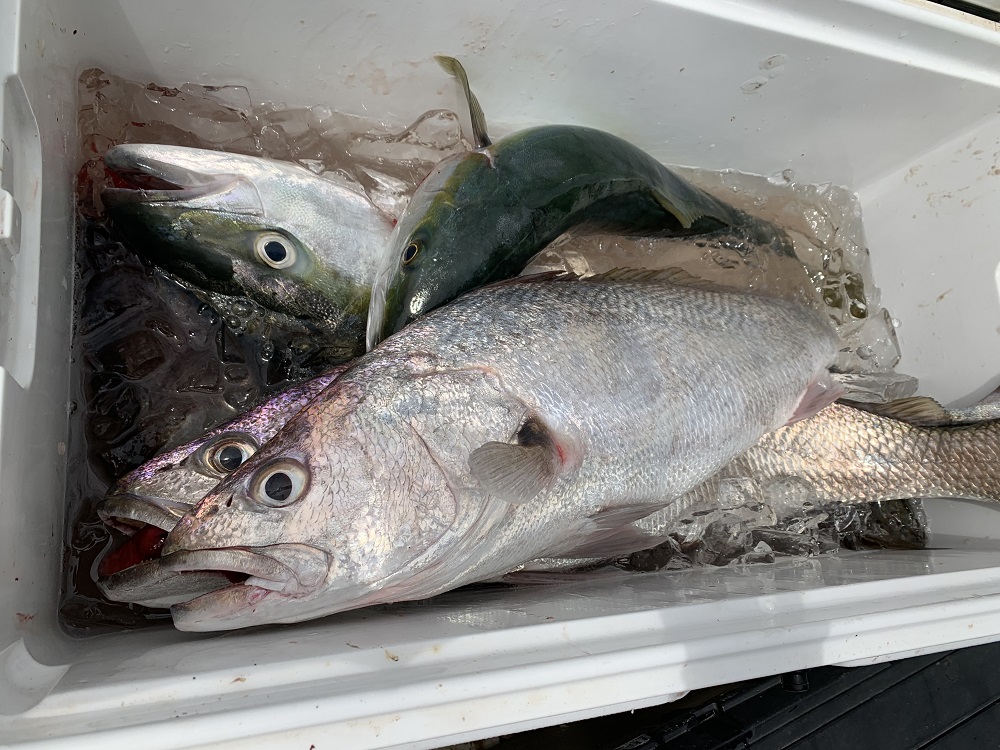 Huge drums and Kingfish! Moreover...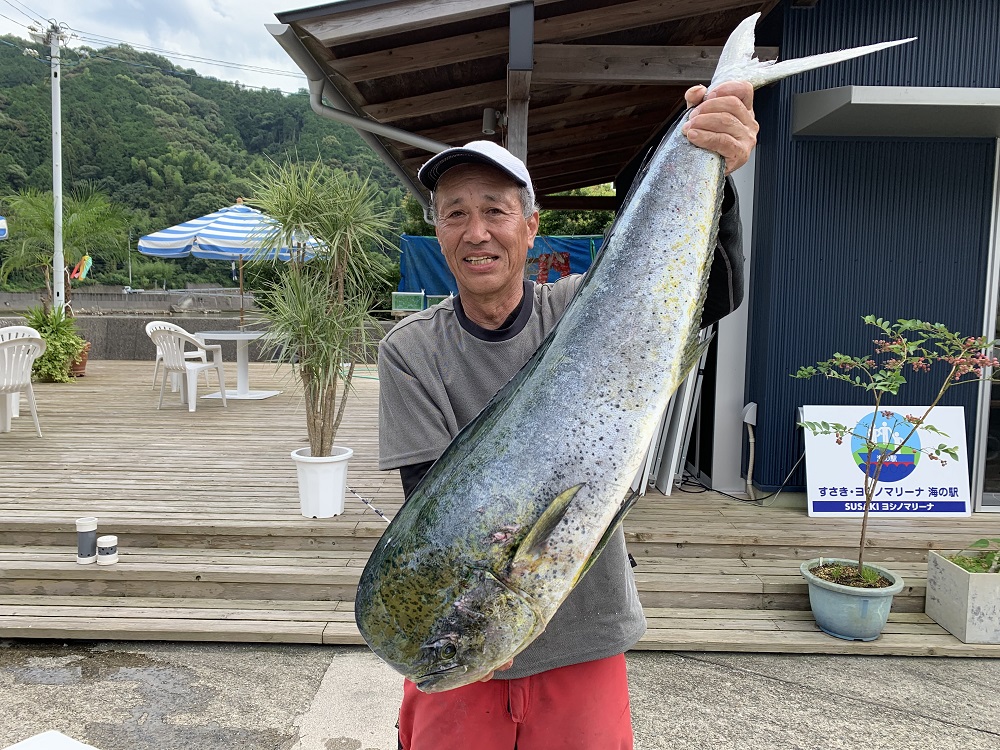 Dada~~~n! Huge dolphin fish! With my "eye measure",  I guess this size is about 1m 5cm, 41.3in. And, this is not only one.....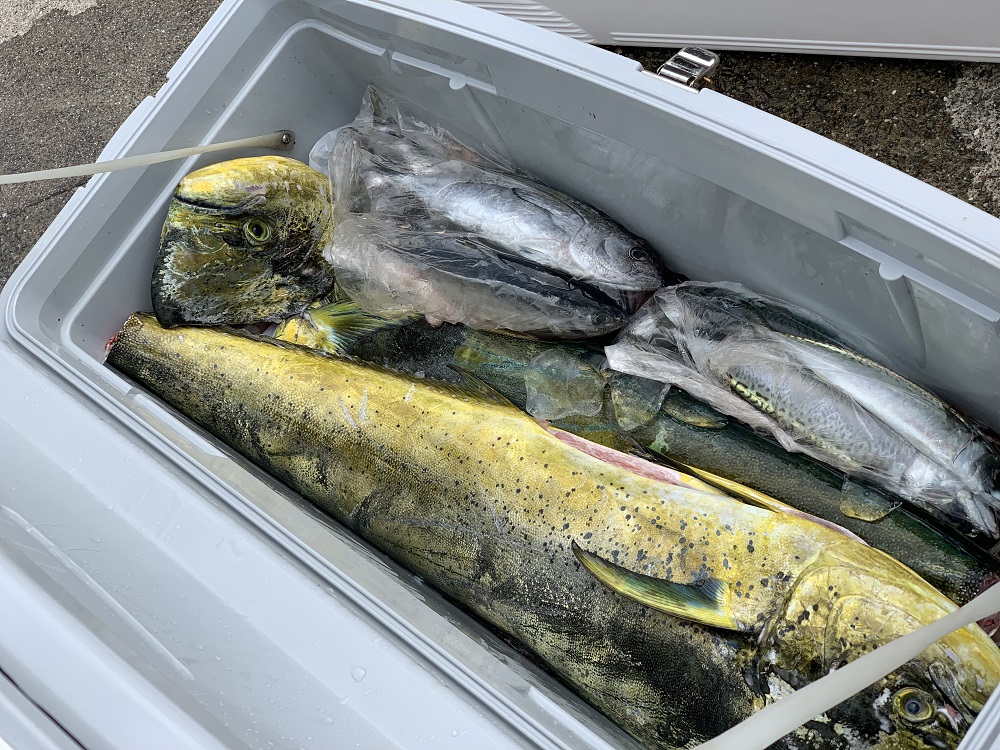 There are four of them and some tuna and giant mackerel. Dolphin fish is even too big to fit in box so that tail has been cut.
This is just beginning of summer fishing fever.
As long as weather is promising, these catches continue until winter.
Why don't you make unforgettable memory in Japan this summer ?
If you are interested in enjoying fishing in Susaki, please let us know in following e-mail address.
E-mail : syoko1@city.susaki.lg.jp (in English & Japanese)   
We have FREE English & French interpreters for international anglers!!!  They support you for booking a boat, accommodation, and fishing with you on boat!
Or, contact us at 0889-42-2311
(Telephone in English & Japanese, available Mon~Th, 8:30~17:15 in Japan standard time),
For the details for fishing tour is here (see "Boat Fishing・Raw Bait Style").
Location of port is here.
Captain Okkamu above is mainly fishing with raw or live bait but we, Susaki Tourism Fishing Center, provide lure fishing service as well.
Fishing style is called "Tairaba" which is effective for Red Snappers and other kinds of snappers. We highly recommend Tairaba style fishing service.
Detail is here.
As well as lure fishing service, we also provide the service that carries anglers to offshore inlets for Smallscale Blackfish and Striped Beakfish.
It is highly recommend to aim those fishes in winter . Detail is here.
 We will see you at next information update and hopefully at Susaki for fishing in future!
Fish on!!
This information is provided by Yoshino Marina.