Hello, everyone !
Greeting from where 25th typhoon is coming.
This is the routine of the year in Japan, but typhoons are really disturbing fishing in best season of the year which is short.  
October 3rd was a such nice sunny cool day for fishing before typhoon comes and our Captain Okkamu went fishing with customers to catch horse mackerels.
However, horse mackerel turned to be somehow ・・・・・・these fish ↓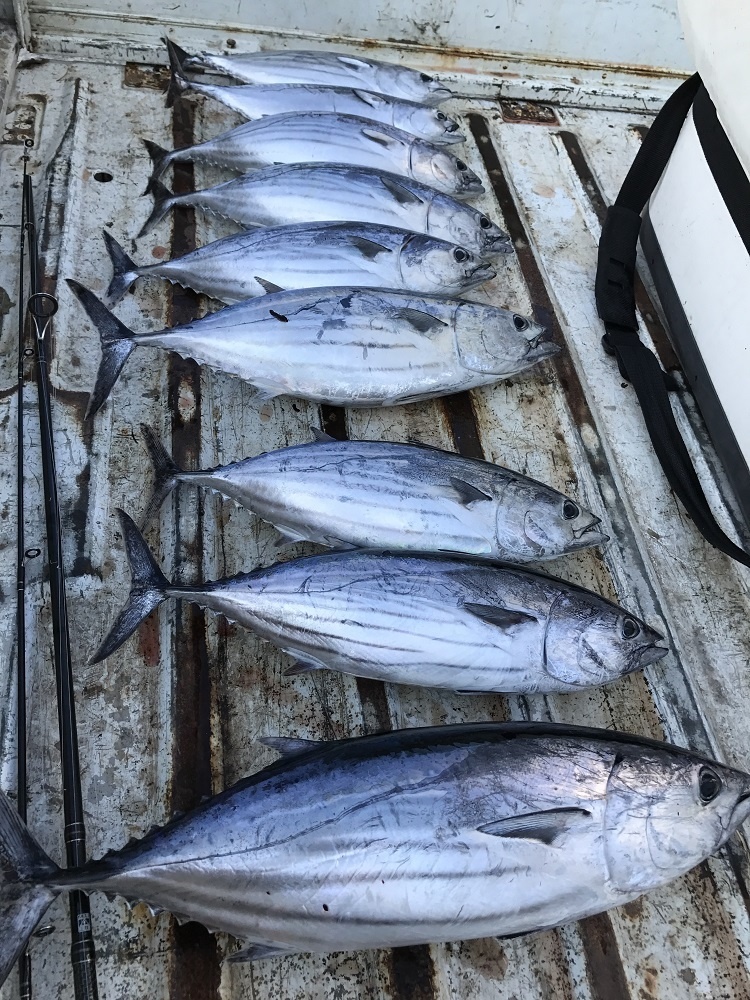 Fat bonitos!!
How come horse mackerels turned to be bonitos ??
Well, this is a  good surprise. For who wished to catch horse mackerels might be disappointed, but I guess most of anglers welcome this result including me?
October 3rd was really under bad condition and his boat couldn't catch anything at the beginning of that day. So, he changed a spot a lot and ended up being at where is 400m (1320ft) deep.
At that spot, captain and his customers were chumming with fake baits on hook and ended up catching these bonitos.
There is a special cuisine called "Katsuo no Tataki" in  Kochi. Katsuo means bonito and Tataki means "lightly grilled with strong fire" . After surface of meat is grilled, cut in pieces and served with sliced onions and garlics and finally sprinkle salt from above. Taste is just perfect with soft yet meaty texture.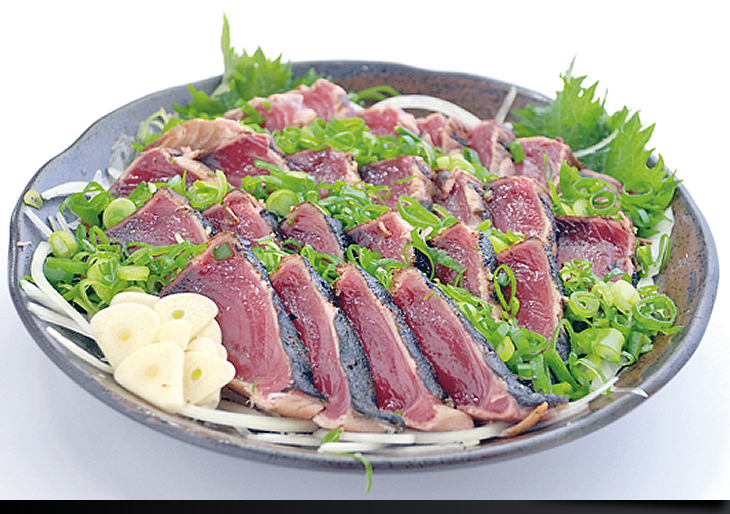 "Katsuo no Tataki" ,  Lightly grilled bonito. A special cuisine in Kochi
According to Captain Okkamu, bonito season is almost over.
If you would like to enjoy bonito fishing in Susaki, please contact on following e-mail for booking.
E-mail : syoko1@city.susaki.lg.jp (in English & Japanese)
If you have any questions, contact us at 0889-42-2311 or syoko1@city.susaki.lg.jp 
(Telephone in English & Japanese, available Mon~Th, 8:30~17:15 in Japan standard time),
For the details for this fishing tour is  here (see "Boat Fishing・Raw Bait Style").
If you would like to talk to Captain Okkamu directly, call 090-8979-1880 (Only in Japanese)
Location of port is here.
Tight lines, anglers! ! !