Hello, world anglers!
Greetings from Susaki, Kochi Prefecture in Japan!
Vaccination has started all over the world but still pandemic is not expected to cease.
However, there is no pandemic lasting forever. Hang on little more, everyone! 
Okay, let's talk about today's topic.
As title shown above, Spring bonito has come to Susaki!
In Japan, there are two seasons for Bonito; Spring and Fall.
Spring is the first season of Bonito. It has been said that eating spring bonito is kind of trend for people to live vigorously long time ago.
Now, spring bonito is still one of seasonal cousins that let us know the coming of Spring.
On the other side, Fall Bonito is one letting us know that winter comes soon.
Difference of taste between Spring and Fall Bonito is the amount of body fat containing.
Spring bonito has less fat than Fall ones.
However, I, web editor ate Spring Bonito few days ago and was surprised by the amount of body fat.
It was as good as fall ones and I loved it.
And, here is angler's photo that got lots of lovely tasty bonito.
This looks like that anglers got a jackspot.
Spring bonito in this season has sticky texture of meat. It's texture is bit similar to mochi (rice cake).
And, I love that texture. It is not possible right now, but if you have any chance to come to Japan in Spring, enjoy Hanami (Viewing Sakura[cherry blossom]) and also eating this Spring bonito!
Of course, there is not only one angler in Susaki. There are more but I introduce another photo of different angler who went after other than bonito.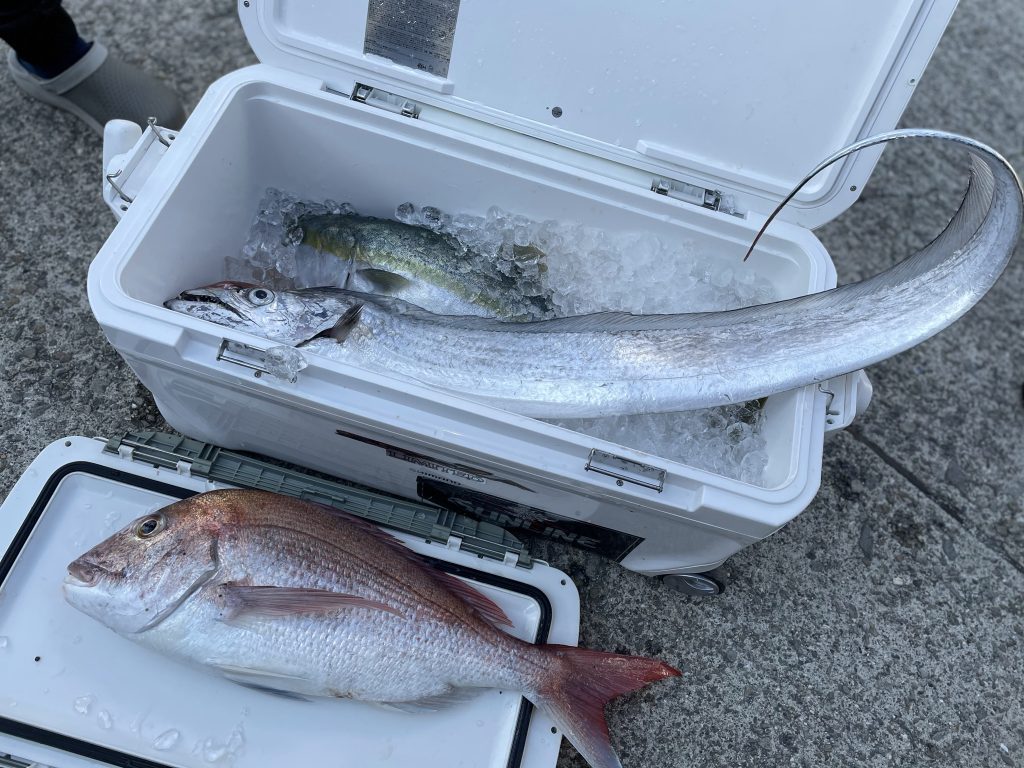 Here is a huge red snapper!  
Red snapper is now in spawning season. Huge ones come from offshore to shore for spawning. Red snapper right on spawning season gets darker because of the Ultra Violet hitting on shallower water.
Red snapper above is still beautiful cherry blossom color. Which means, this red snapper was about to come to shore.
What caught your eyes most would be probably a Scabbard fish longer than 1m(39in). 
Sashimi is good for scabbard fish but best cook method for this fish, I believe is "meuniere", french style.
And, there is also a yellowtail beneath scabbard fish.
At the glance of pectral part of photo, that yellowtail looks fat !
For this yellowtail, best cooking method I recommend is "Syabu Syabu".
Put a dried kelp into boiling water and dip a slice of yellowtail meat little bit and dip deeply into sauce with chopped green onion, then eat it.
hmmm, yummy.
In the sea of Susaki, there are various targets for both Lure fishing and Bait fishing.
And, the experienced captains for both lure and bait fishing take anglers to great fishing spots everyday.
There are two representitive captains below.
◆If you are looking for Offshore Jigging, Tai Jig, and even Tuna Casting Game, Yoshino Marina Resort is a way to go.
Yoshino Marina Resort Fishing Plans and Fees
◆As we have been informing since last year, Captain Okkamu is constantly catching fishes. If you come to Japan first time ever and would like to try fishing without being lonely with empty cold box, we highly recommend him to go fishing with.
Captain Okkamu's Reservation Information :
E-mail : syoko1@city.susaki.lg.jp (in English & Japanese)
Or, contact us at 0889-42-2311
(Telephone in English & Japanese, available Mon~Th, 8:30~17:15 in Japan standard time),
For the details for fishing tour is here (see "Boat Fishing・Raw Bait Style").
Location of port is here.
Captain Okkamu above is mainly fishing with raw or live bait but we, Susaki Tourism Fishing Center, provide lure fishing service as well.
Fishing style is called "Tairaba" which is effective for Red Snappers and other kinds of snappers. Here in Susaki, winter is the best season for big snappers. We highly recommend Tairaba style fishing service.
Detail is here.
As well as lure fishing service, we also provide the service that carries anglers to offshore inlets for Smallscale Blackfish and Striped Beakfish. Both fishes become fatter and fatter in winter and more tastier.
It is highly recommend to aim those fishes in winter . Detail is here.
We will see you at next information update and hopefully at Susaki for fishing in future!
Fish on!!