Hello, world anglers !
How have you been recently?
We hope you are are doing alright.
If you are living in Northern Hemisphere, it is getting warm day by day.
I guess many of you are waiting for Spring which brings more fish near you.
If you are living in Southern Hemisphere, fish started rushing to chase baits to prepare for winter.
Fall is best season for fishing.
Here in Susaki, as Spring comes closer, warm wind gets stronger.
So, recently not many fishing boats went offshore, but there are always some challengers.
So, let's see what those challengers brought back from offshore.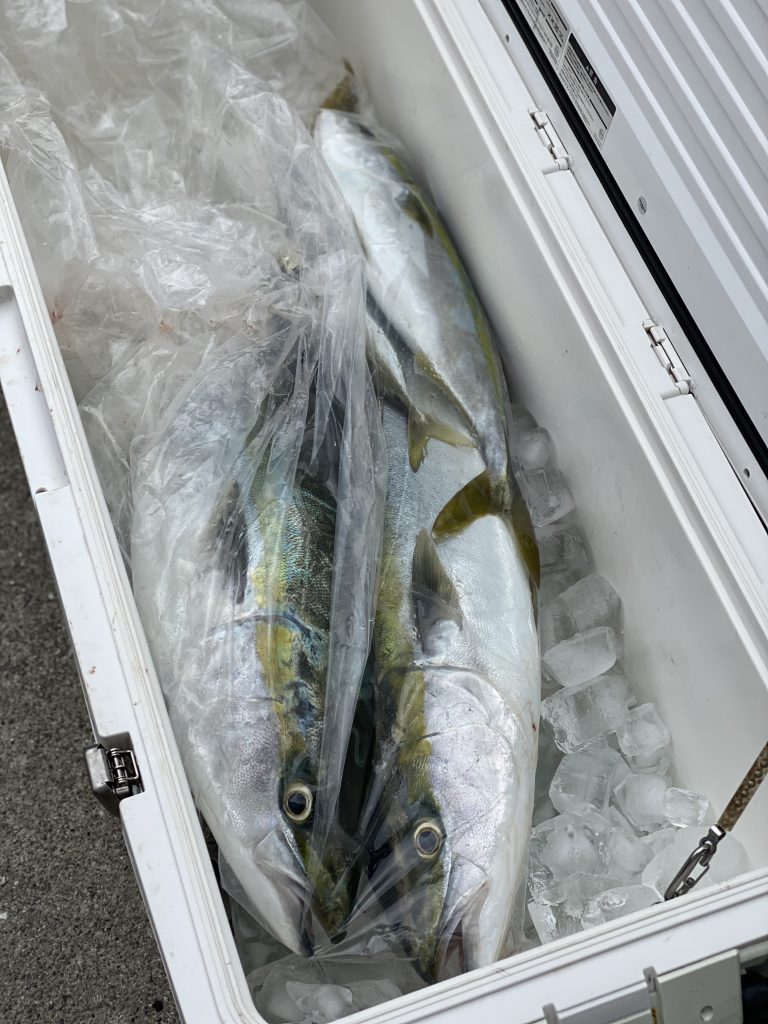 Yellowtail looks like 70cm(27in) or  bigger.  Those are great to eat right away or even greater to eat after aged for few days in a fridge.
Yellowtail caught in Susaki starts gainning fat in body from Feburary.  Sashimi is good, and Shabusyabu is good too.
Let's see another cold box!
Big Spanish Mackerel! Spanish mackerel is hard to get because of its sharp teeth. 40lb line is not even enough sometimes.  
Spanish Mackerel is such good fish to eat as seared  fish.
Grilling skin part  lightly and eat with soy sauce and wasabi, or dipping into miso paste for few days to get it aged and grilling is juicy and savory.
Those cooking methods are highly recommended.
In the sea of Susaki, there are various targets for both Lure fishing and Bait fishing.
And, the experienced captains for both lure and bait fishing take anglers to great fishing spots everyday.
There are two representitive captains below.
◆If you are looking for Offshore Jigging, Tai Jig, and even Tuna Casting Game, Yoshino Marina Resort is a way to go.
Yoshino Marina Resort Fishing Plans and Fees
◆As we have been informing since last year, Captain Okkamu is constantly catching fishes. If you come to Japan first time ever and would like to try fishing without being lonely with empty cold box, we highly recommend him to go fishing with.
Captain Okkamu's Reservation Information :
E-mail : syoko1@city.susaki.lg.jp (in English & Japanese)
Or, contact us at 0889-42-2311
(Telephone in English & Japanese, available Mon~Th, 8:30~17:15 in Japan standard time),
For the details for fishing tour is here (see "Boat Fishing・Raw Bait Style").
Location of port is here.
Captain Okkamu above is mainly fishing with raw or live bait but we, Susaki Tourism Fishing Center, provide lure fishing service as well.
Fishing style is called "Tairaba" which is effective for Red Snappers and other kinds of snappers. Here in Susaki, winter is the best season for big snappers. We highly recommend Tairaba style fishing service.
Detail is here.
As well as lure fishing service, we also provide the service that carries anglers to offshore inlets for Smallscale Blackfish and Striped Beakfish. Both fishes become fatter and fatter in winter and more tastier.
It is highly recommend to aim those fishes in winter . Detail is here.
We will see you at next information update and hopefully at Susaki for fishing in future!
Fish on!!