Hello from fishing paradise aka. Susaki, Kochi in Japan.
How's your fishing results, world anglers?
My friend living in Winnipeg frequently goes to ice fishing and always caught some fishes like sauger, crappy and so on.
However, in recent few times he caught nothing. Other anglers caught nothing too.
Accoring to him, many people started fishing due to coronavirus pandemic and that's why numbers of fish where he always fish decreased.
How were your areas, everyone?
Does this pandemic affect to your fishing spots too?
Anyway, let's get started.
Susaki was calm enough for offshore fishing until few weeks ago, but from last week, windy weekend has been continuing
and Feburary 20th was also one of those days.
So, most fishing boats launched from Yoshino Marina Resort came back to port by around noon.
So, they 0nly had few hours of fishing time. Let's see what they caught.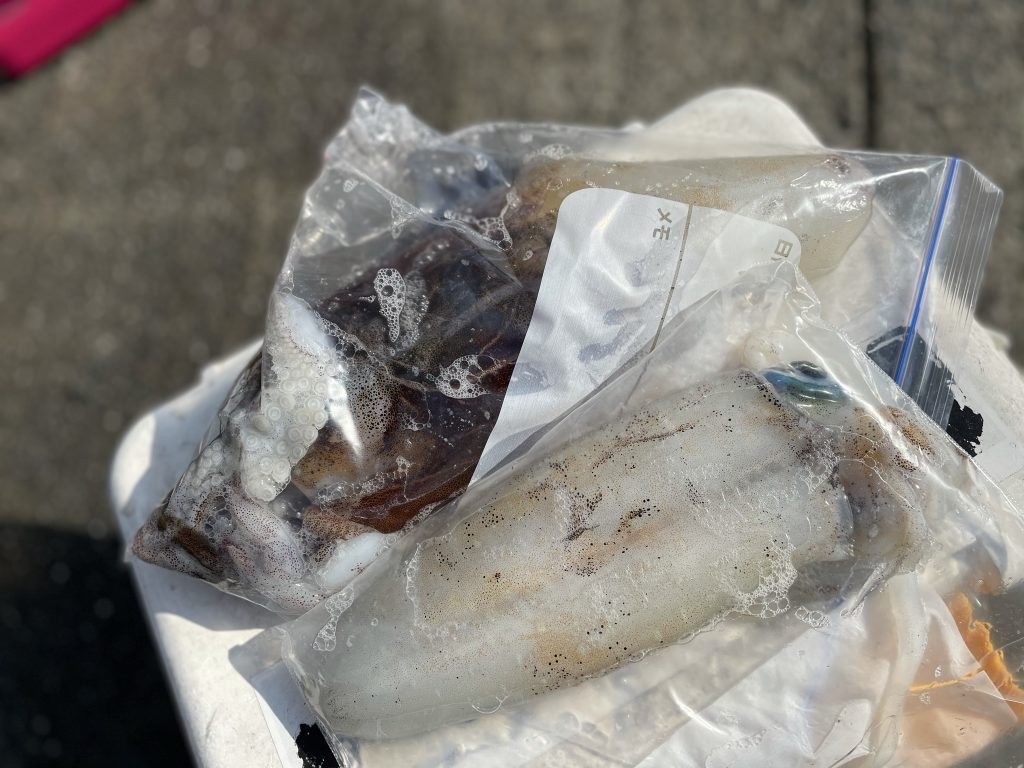 First one is from angler who is eagerly after Bigfin reef squid. Bigger one is 1kg(2.2lb), and small one is 600g (1.3lb) .
2 squids for few hours are not bad.
Next one is ones who fished with Tai jig. What a great result for few hours fishing. 6 tilefish, 1 soldier fish, 1 amberjack, and 3 Red marbled rockfish. They are all expensive fishes. So, this cold box is like jewery box.
But, here is one question. These fishes had been caught at 110m deep (366ft) . I also fished at same depth and caught a lot of yellowback seabream all the time. In this cold box, there is no yellowback. This is weird. This is either they must have released all yellowback or separate them in different cold box.
Let's take a look at another cold box whose anglers fished at the same depth.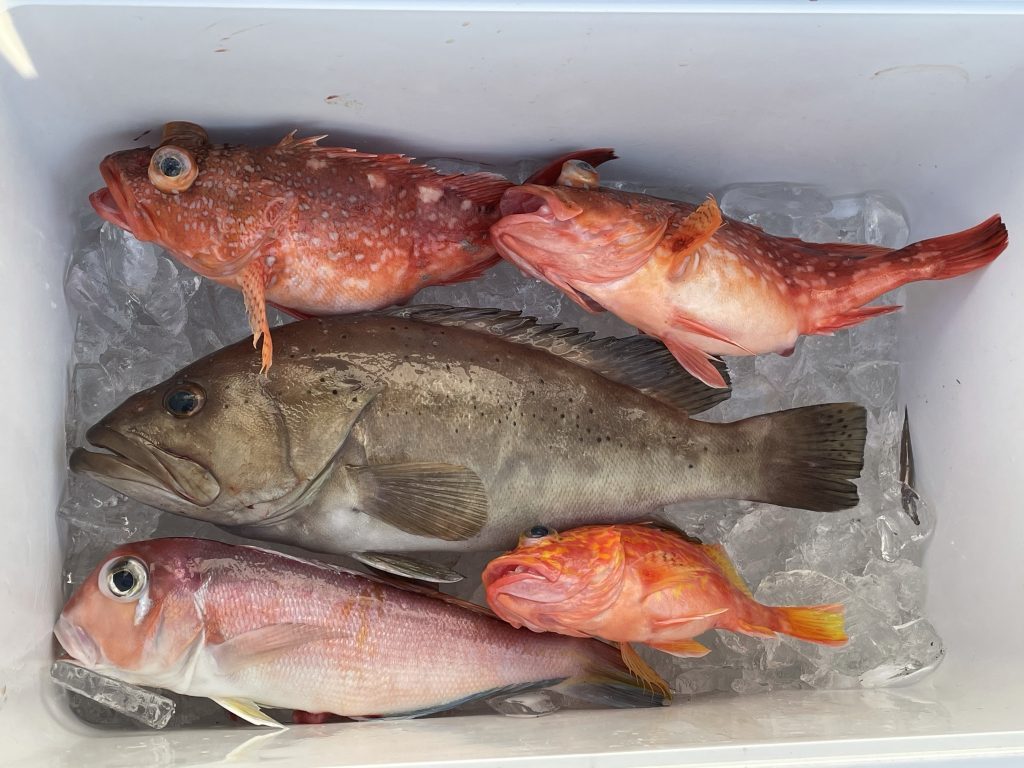 Ok, this is also weird. There is no yellowback. From my experience, catch ratio at this depth is about 1 other kind of fish / 5~10 yellowback. It shouldn't be that there is no yellowback seabream with these expensive fishes.
Anyway, congratulations for a rare fish, Spotted Grouper!
In the sea of Susaki, there are various targets for both Lure fishing and Bait fishing.
And, the experienced captains for both lure and bait fishing take anglers to great fishing spots everyday.
There are two representitive captains below.
◆If you are looking for Offshore Jigging, Tai Jig, and even Tuna Casting Game, Yoshino Marina Resort is a way to go.
Yoshino Marina Resort Fishing Plans and Fees
◆As we have been informing since last year, Captain Okkamu is constantly catching fishes. If you come to Japan first time ever and would like to try fishing without being lonely with empty cold box, we highly recommend him to go fishing with.
Captain Okkamu's Reservation Information :
E-mail : syoko1@city.susaki.lg.jp (in English & Japanese)
Or, contact us at 0889-42-2311
(Telephone in English & Japanese, available Mon~Th, 8:30~17:15 in Japan standard time),
For the details for fishing tour is here (see "Boat Fishing・Raw Bait Style").
Location of port is here.
Captain Okkamu above is mainly fishing with raw or live bait but we, Susaki Tourism Fishing Center, provide lure fishing service as well.
Fishing style is called "Tairaba" which is effective for Red Snappers and other kinds of snappers. Here in Susaki, winter is the best season for big snappers. We highly recommend Tairaba style fishing service.
Detail is here.
As well as lure fishing service, we also provide the service that carries anglers to offshore inlets for Smallscale Blackfish and Striped Beakfish. Both fishes become fatter and fatter in winter and more tastier.
It is highly recommend to aim those fishes in winter . Detail is here.
We will see you at next information update and hopefully at Susaki for fishing in future!
Fish on!!