Hello, world anglers !
This is Susaki Tourism Fishing Center.
How was your fishing in last weekend?
There were 3 holidays in Japan, and I went fishing all days and caught 2 small fishes. What a horrible result.
So, I was expecting other anglers to have  same result. But I was wrong. Some people got really good results.
Yes, you are right.  I am suck at fishing but I like it.
Anyway, let's see what the other "Good" anglers got on Feburary 14th.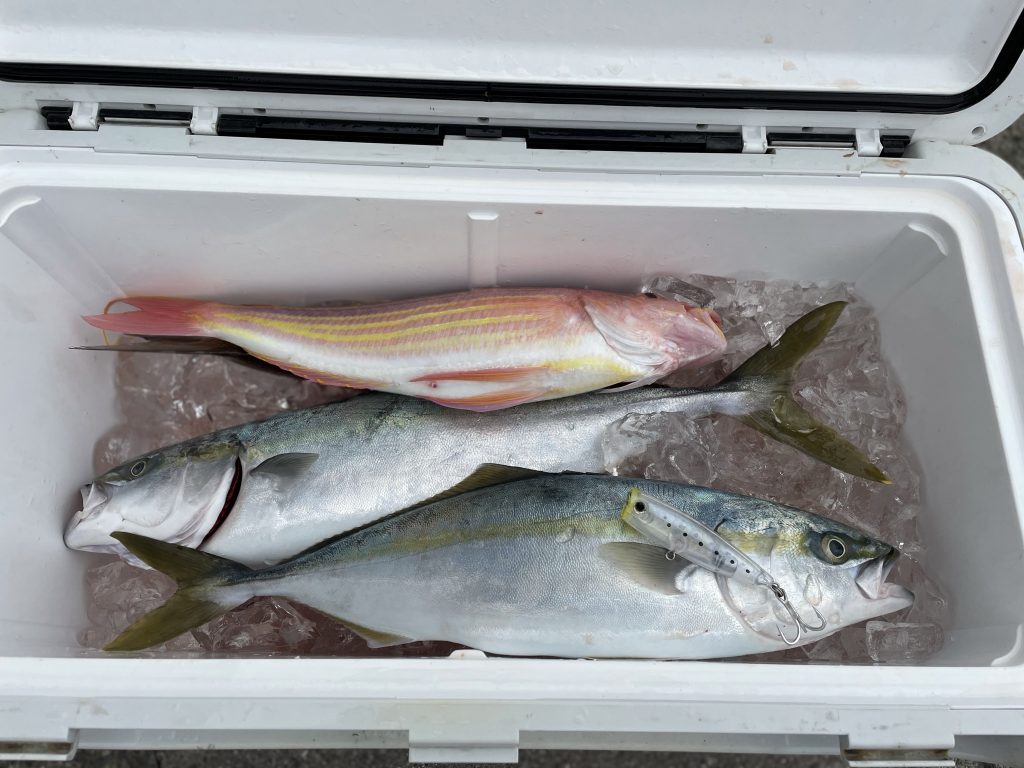 Yellowtail and Golden threadfin Seabream. And, there is one more below seabream but can't identify what this is by looking at its tail.
Angler went around an offshore light house and encountered a group of yellowtail. According to an angler, it was like "one drop, one hit" situation.
There were just too many yellowtail.
I am so jealous....
This information has been provided by Yoshino Marina Resort.
In the sea of Susaki, there are various targets for both Lure fishing and Bait fishing.
And, the experienced captains for both lure and bait fishing take anglers to great fishing spots everyday.
There are two representitive captains below.
◆If you are looking for Offshore Jigging, Tai Jig, and even Tuna Casting Game, Yoshino Marina Resort is a way to go.
Yoshino Marina Resort Fishing Plans and Fees
◆As we have been informing since last year, Captain Okkamu is constantly catching fishes. If you come to Japan first time ever and would like to try fishing without being lonely with empty cold box, we highly recommend him to go fishing with.
Captain Okkamu's Reservation Information :
E-mail : syoko1@city.susaki.lg.jp (in English & Japanese)
Or, contact us at 0889-42-2311
(Telephone in English & Japanese, available Mon~Th, 8:30~17:15 in Japan standard time),
For the details for fishing tour is here (see "Boat Fishing・Raw Bait Style").
Location of port is here.
Captain Okkamu above is mainly fishing with raw or live bait but we, Susaki Tourism Fishing Center, provide lure fishing service as well.
Fishing style is called "Tairaba" which is effective for Red Snappers and other kinds of snappers. Here in Susaki, winter is the best season for big snappers. We highly recommend Tairaba style fishing service.
Detail is here.
As well as lure fishing service, we also provide the service that carries anglers to offshore inlets for Smallscale Blackfish and Striped Beakfish. Both fishes become fatter and fatter in winter and more tastier.
It is highly recommend to aim those fishes in winter . Detail is here.
We will see you at next information update and hopefully at Susaki for fishing in future!
Fish on!!