Hello, world anglers !
How's your recent fishing journey?
Hope you gain vitality from fish you caught every time you go fishing.
Corona is still threating our lives and not seem to cease worldwidely.
Nothing is more  important than health. Being yourself healthy makes your family and friends healthy.
Let's be cautious once again and walk on the road together to the victory against this virus.
Alright, let's see the result of today's topic.
It is of November 1st.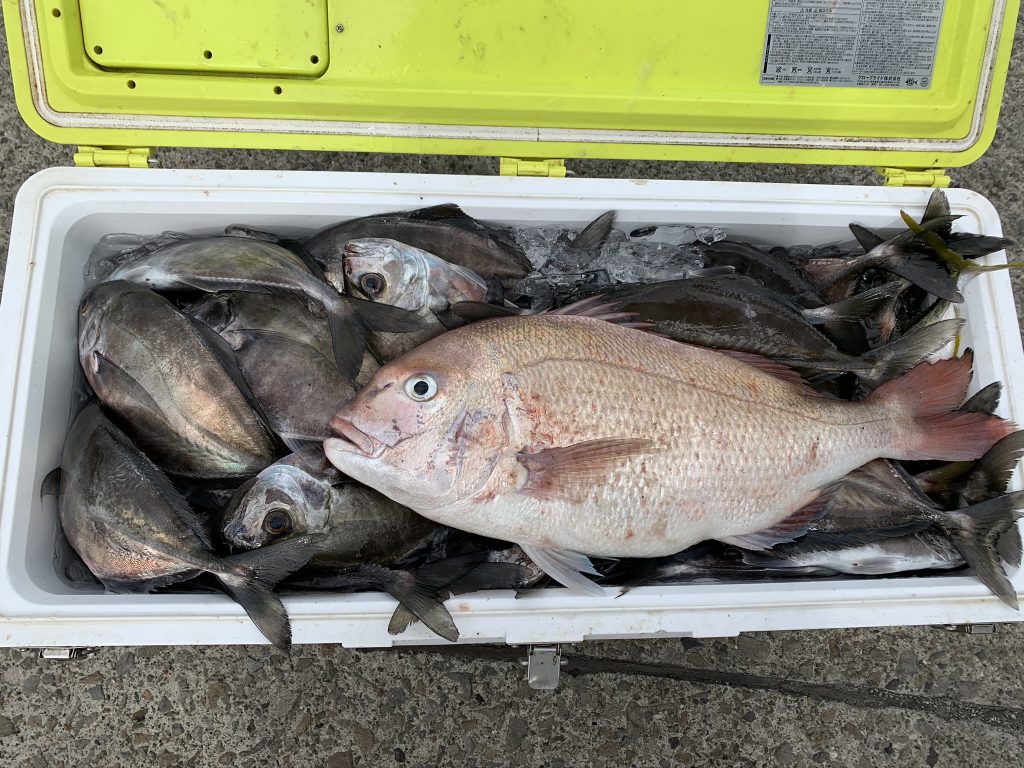 Dada~~n. Dark-silverish fish below Red Snapper is called Whitetongue Jack according to internet.
 They tend to be caught in offshore mainly.
I do sometimes offshore fishing but never caught them.
I wonder how its taste is like.
They are rare to find in super market. I mean, I have never ever seen them.
If you ever wonder about its taste like me, here is the best captain.
Captain Okkamu's Reservation Information :
E-mail : syoko1@city.susaki.lg.jp (in English & Japanese)
Or, contact us at 0889-42-2311
(Telephone in English & Japanese, available Mon~Th, 8:30~17:15 in Japan standard time),
For the details for fishing tour is here (see "Boat Fishing・Raw Bait Style").
Location of port is here.
Captain Okkamu above is mainly fishing with raw or live bait but we, Susaki Tourism Fishing Center, provide lure fishing service as well.
Fishing style is called "Tairaba" which is effective for Red Snappers and other kinds of snappers. Here in Susaki, winter is the best season for big snappers. We highly recommend Tairaba style fishing service.
Detail is here.
As well as lure fishing service, we also provide the service that carries anglers to offshore inlets for Smallscale Blackfish and Striped Beakfish. Both fishes become fatter and fatter in winter and more tastier.
It is highly recommend to aim those fishes in winter . Detail is here.
We will see you at next information update and hopefully at Susaki for fishing in future!
Fish on!!
This information has been provided from Yoshino Marina Resort.