Good morning, afternoon, evening to all anglers in the world.
Greeting to all from Kochi Prefecture in Japan!
How are you doing guys?
Any memorial catch recently ?
Hope you had some.
Here, Susaki Tourism Fishing Center is very glad to announce that bonito season has arrived to Susaki this year!
Some boats launched from Susaki got lots of fat bonito on October 3rd.
6.6kg(14.5lb) Bonito! All bonitos are similar size to this one.
The reason why Susaki Toursim Fishing Center is very happy to inform this information is that Bonito is a kind of special fish in Kochi Prefecture.
If you have well-known knowledge about Japan, you might have heard of "Katsuo No Tataki"= "Seared Bonito" which is known as  delicacy of Kochi, though seared bonito is distributed to all over Japan. However, "Katsuo No Tataki" is always best when it is just seared. Plus. in Kochi, seared bonito is eaten with salt instead of  sauce and salt is better than sauce to me who tried both. Sauce is good but somewhat flavor of bonito decreases due to the flavor of sauce. On the other hand, salt even enhances the good flavor of bonito and melts with Bonito's on tangue.
Anyway, if you want to eat  fresh seared bonito with salt, you have to come to Kochi!
And, some other photos from Yoshino marina resort.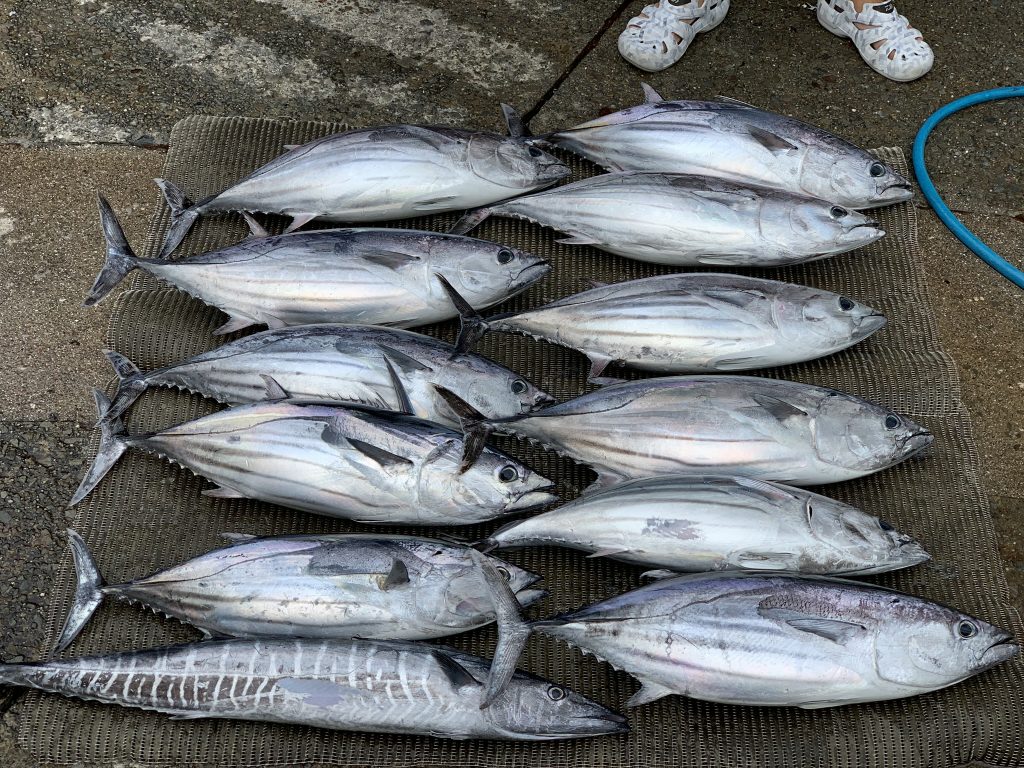 They are all about 6kg (13lb). Wahoo has been caught too. Wahoo is tasty according to internet.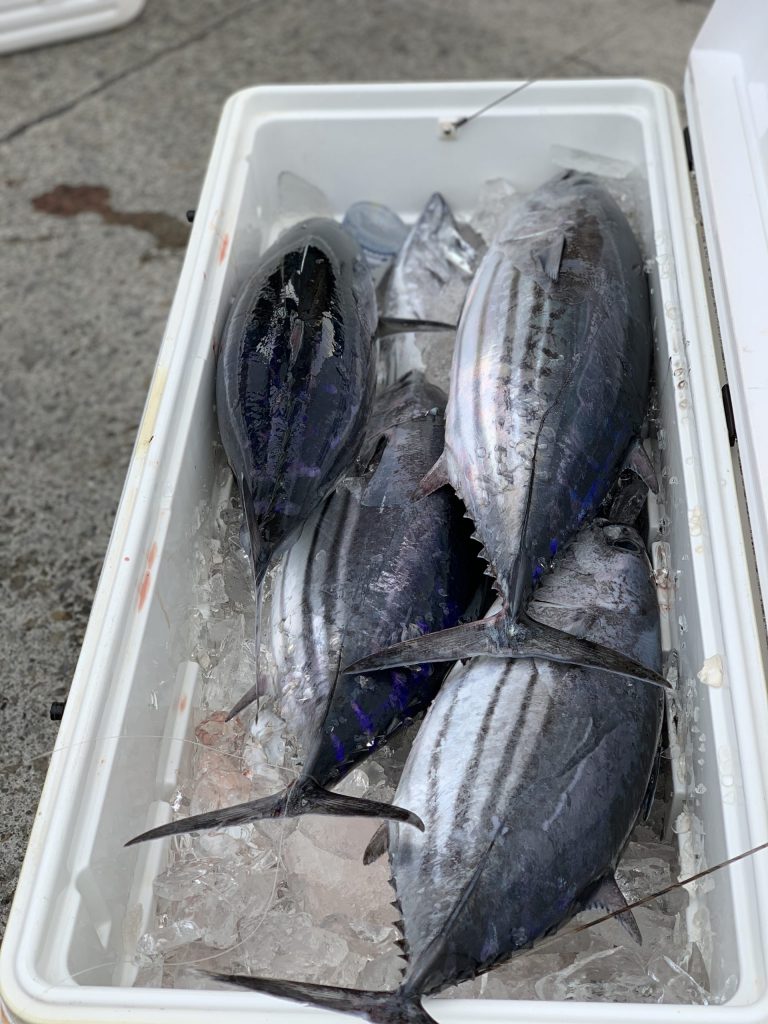 Look at the shape of body of Bonito on the left up corner. Roundy shape is  the guarantee of high fat bonito.
Plus, on October 11th, there was biggest bonito ever caught.
I had never seen that big bonito like this. They didn't weigh but it is estimated over 10kg (22lb) !!!
################
・Tuna course
【Duration】10~12 Hours
【Course】Whale/ Dolphin Watching
【Targets】Yellowfin Tuna ・Bonito
【Method】Casting from a boat
【Schedule】Email or call us
【Fee】(Excl.Tax)
 Chartered 60,000JPY~70,000JPY(Depends on area)
Reservation available from 8:00 to 17:00 (Except holidays)
Reservation dial 0889-43-2828 (Only in Japanese)
You can also ask recent catch via e-mail
Email to Yoshino Marina Resort

################
There is also another fishing service for bonito.
Some of you might already know Captain Okkamu.
Please make sure that he is still after Bonito when making a reservation.
↓Captain Okkamu↓
Captain Okkamu's Reservation Information :
E-mail : syoko1@city.susaki.lg.jp (in English & Japanese)
Or, contact us at 0889-42-3951
(Telephone in English & Japanese, available Mon~Th, 8:30~17:15 in Japan standard time),
For the details for fishing tour is here (see "Boat Fishing・Raw Bait Style").
Location of port is here.
Captain Okkamu above is mainly fishing with raw or live bait but we, Susaki Tourism Fishing Center, provide lure fishing service as well.
Fishing style is called "Tairaba" which is effective for Red Snappers and other kinds of snappers.
Detail is here.
As well as lure fishing service, we also provide the service that carries anglers to offshore inlets for Smallscale Blackfish and Striped Beakfish.
It is highly recommend to aim those fishes here in Susaki . Detail is here.
We will see you at next information update and hopefully at Susaki for fishing in future!
Fish on!!