Long time no see, everyone!
It has been a  while to update this homepage!
How are you guys doing these days? We hope you all are doing alright.
Corona cases are bounding back to increase in Europe according to news media.
We are already tired of surpressing ourselves to not do anything due to avoiding corona virus infection.
But, once again, make sure to assess what we can do and what we cannot do, and please take care and keep yourself away from corona virus.
After effect of corona virus is being revealed little by little by the researches conducted by many countries and there are many cases that patients are still negatively and severely effected by after effects. Corona is not Flu which does not tend to have severe after effects . So, for your enjoyable fishing life, please be careful.
Ok, let's proceed to today's topic.
Summer heat has ceased already and weather is getting better day by day recently.
Then, there is a target we are waiting for so long time.
That is a bigfin reef squid.
I have started to fish bigfin reef squid since 2018.
Fishing style is called Tip-Run Eging.
Fishing method is simple: Drop a lure in front, and get the bottom. After reached the bottom, shake the rod vividly for 3 times. And, keep the line tention and drift a lure for 3 seconds.
If there is no bite, repeat previous steps until getting a bite.
When a squid hits, I feel really heavy on a rod. And, jet stream from squid body drags the line from the reel.
That is an attractiveness of squid fishing.
On september 21st, there is an angler launched from Yoshino Marina Resort.
And, he came back with about 20 squids, where 400g~600g.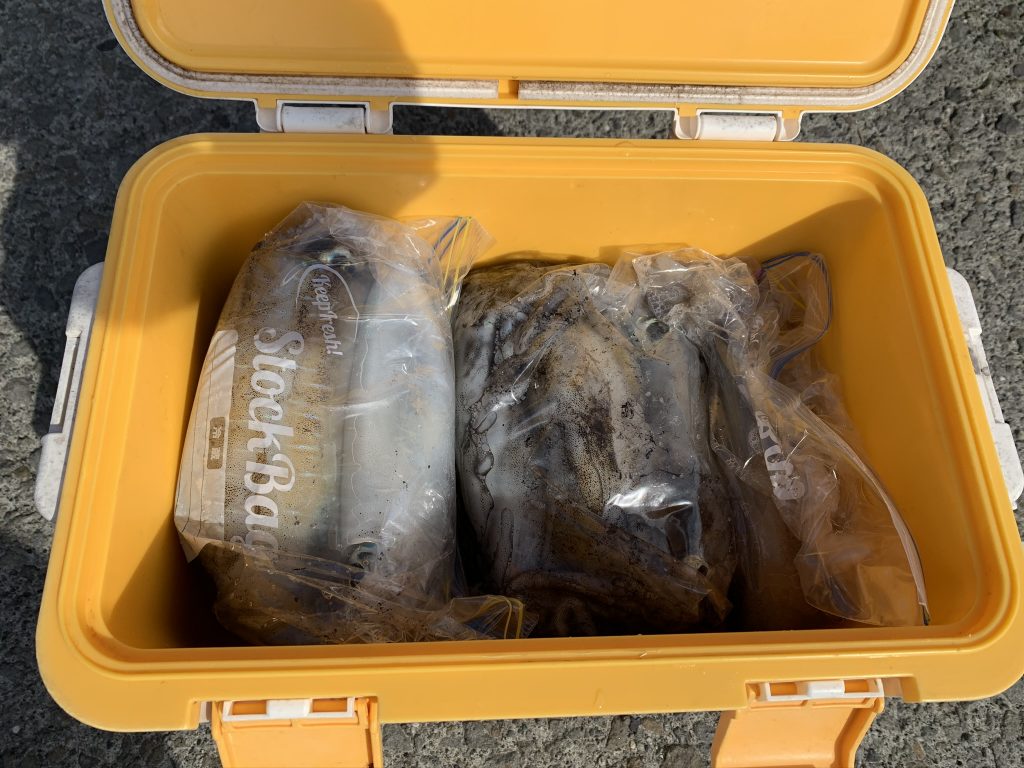 Bigfin reef squid is one of most expensive squids in Japan. One squid around 400g costs about  10USD.  This angler caught 20 of them!!! 20!!
So jealous.....
Yes, squid season has finally come to Susaki   !!!
This coming weekend is going to be all sunny long according to weather forecast.
I hope I have at least one chance to go catch them.
Yoshino Marina Resort provides various kinds of ocean service.
Please checkt out their website. Yoshino Marina Resort (Only in Japanese)
Location of port is here.
Captain Okkamu above is mainly fishing with raw or live bait but we, Susaki Tourism Fishing Center, provide lure fishing service as well.
Fishing style is called "Tairaba" which is effective for Red Snappers and other kinds of snappers.
Detail is here.
As well as lure fishing service, we also provide the service that carries anglers to offshore inlets for Smallscale Blackfish and Striped Beakfish.
It is highly recommend to aim those fishes here in Susaki . Detail is here.
We will see you at next information update and hopefully at Susaki for fishing in future after corona ceased!!
Fish on!!