Hello all!
How are you doing in rainy season?
Though Susaki is still in rainy season, Okinawa is already off from it.
Entire Japan will be in hot summer soon!
Here is today's news.
New captain we introduced here in previous update sent us what his boat caught!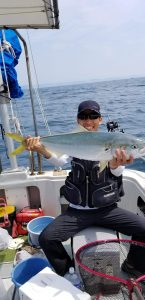 Five-ray Yellowtail over 90cm!! (over 3ft)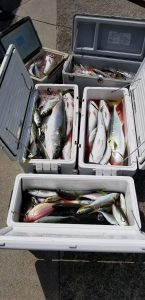 Totally filled up 5 large-sized cold boxes !  
These catches are the result of the sea of Susaki on 24th of June.
Area they caught these fishes is around 65~85m (215~280ft) deep with ※Kuwase tsuri  tecnique.   
What they caught were:
Five-ray Yellowtail
Horse Mackerel
Mackerel
Red Snapper
Drum
Golden Threadfin Bream
Truly incredible catch, Captain Okkamu!
If you would like to angle with Captain Okkamu, call 090-8979-1880 (Only in Japanese) or 0889-42-2311 (in English & Japanese, available Mon~Th, 8:30~17:15 in Japan standard time).
Rate is 1 customer / 8000 yen  and service is available from 1 customer. Here is more information. (Look for "Boat fishing ・Raw Bait Style")
Also, captain Okkamu is updating more photos of his fishing trip in this website. (Only in Japanese)

Why don't you have a great fishing fever in Susaki before we get into summer? 
※Kuwase tsuri technique:
A kind of fishing style recently becoming quite popular in Japan. Boat looks for a group of bait fish such as sardines, horse mackerel and so on, and anglers fish them first. After hooked on small bait fish, anglers leave it without reeling it in and wait until predatory fish such as Five-ray Yellowtain, Amberjack, etc feed on the bait fish.  Since the rig is used to catch both bait fish and predatory fish, thick line such as 40lb or more is used to avoid predatory fish to get into structures. Also called "Otoshikomi tsuri tecnique" in Kyusyu and Kinki area in Japan.